Record-setting freshman class expected
This year's incoming Greyhounds are highest ever in GPA, sheer numbers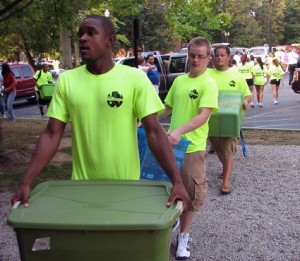 With the fall semester starting Aug. 25, the University of Indianapolis expects the largest incoming class – and one of the most academically successful – in its century-plus history.
At least 930 freshmen, a 16 percent increase from 2013, will join the Greyhound ranks this year, along with more than 200 students transferring from other institutions.
Hailing from 17 states and many nations, most notably China and Saudi Arabia, the freshmen also are likely to set a new record with their combined GPA, currently projected at 3.47 on a 4.0 scale. The group includes 15 valedictorians and six salutatorians.
The most popular majors for this year's new students are health- and wellness-related programs such as Nursing, Pre-Physical Therapy, Exercise Science, Athletic Training and Pre-Med, along with Communication, Business and Sport Management. The trends support the priorities of the university's five-year, $50 million development plan, which kicked off this summer with groundbreaking on the four-story Health Pavilion that will bring UIndy's allied health programs together for new collaborations in learning, research and providing services to the public.
"The Health Pavilion is one step toward maximizing the potential of our top academic programs to create a superior experience for our students," university President Robert Manuel said. "Later this year, we'll begin an extensive renovation and modernization of our Krannert Memorial Library, and we'll continue moving forward with the other program and facility upgrades identified in our Vision 2030 strategic planning process."
As for total enrollment, university officials expect a slight increase from last fall's figure of around 5,400 undergraduate and graduate students, though official numbers won't be available until September.
Move-In Day – Aug. 20
The tradition will continue as new students and their families are greeted by a legion of faculty, staff and student volunteers, who will guide their vehicles to the appropriate residence halls and cheerfully lug their belongings to their new rooms.
Downtown Scavenger Hunt – Aug. 21
New this year: In collaboration with Indiana Humanities' ALL-IN campaign, several hundred freshmen will be bused downtown for a three-hour competition, documented on social media, that will introduce them to the civic and cultural focal points of Indianapolis. The chase will end with a party on the Eiteljorg Museum lawn and an Indians game at Victory Field.