Biology graduate featured on national podcast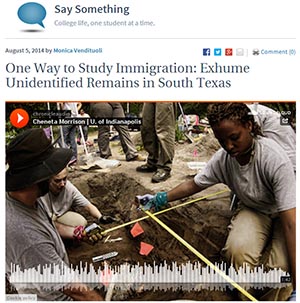 UIndy alumna Cheneta Morrison is the latest subject of The Chronicle of Higher Education's Say Something podcast, which focuses on interesting activities among the nation's college students.
Morrison was a member of the team from UIndy's Archeology & Forensics Laboratory, led by Associate Professor Krista Latham, that traveled to southern Texas this summer to exhume and begin the process of identifying the remains of migrants who succumbed to the elements after crossing the U.S. border. The Fort Wayne native graduated in May with a bachelor's degree in Human Biology and also holds a UIndy degree in Criminal Justice.
The two-minute podcast can be heard here.
Previous stories about the team's Beyond Borders project are here, and the team's website — with compelling video, photos and blog entries — is beyondborders.uindy.edu.