Airport exhibition features longtime prof's art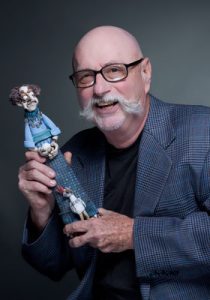 The whimsical ceramic figures of Professor Emeritus Dee Schaad are familiar to many folks within and beyond the UIndy community, and now they are on display for international travelers passing through town.
Recently retired after more than 30 years in the Department of Art & Design, Schaad is one of just two local artists selected for the current exhibition rotation at Indianapolis International Airport. Through Nov. 16, the Concourse B installation case will feature his pieces inspired by the characters of Chaucer's The Canterbury Tales, but cast as present-day tourists.
Schaad's stoneware and earthenware work is included in several books about clay art and held in many public and private collections. He is a 2007 recipient of a Creative Renewal Arts Fellowship from the Arts Council of Indianapolis.