New digital media programs begin this fall
Both traditional and adult students can prepare for careers in emerging communications fields through new digital media programs starting this fall at UIndy.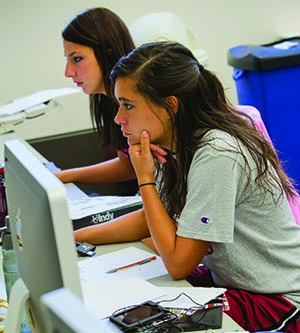 Digital Media Studies is a bachelor of science program, unique in Indiana, that includes courses in writing and content, design, software development, marketing and public relations, communication law and analytics. Aimed at traditional college students, the curriculum prepares graduates for fields involving a range of digital skills and media knowledge, including web design, advertising, marketing, app development, game design, creative services, social media direction, interactive video editing and multimedia production. The program was designed collaboratively by faculty in UIndy's departments of Art & Design, Communication, English and Math & Computer Science.
Students may choose from concentrations in content, visual design or computer programming, and the major includes a capstone course in which team members from all three tracks collaborate in developing digital projects. UIndy also offers an 18-credit-hour minor and a 12-credit-hour certificate in Digital Media Studies. More information is available at uindy.edu/cas/digital-media-studies.
For working adults, UIndy's School for Adult Learning offers the Digital Media Management bachelor's degree program, which likewise prepares graduates for a variety of careers in media and communication. All courses necessary to complete the major are offered in a five-week accelerated format, meeting one night each week. Subject areas include social media networks and apps, content management, marketing, reputation management, online interpersonal communication, digital journalism, metrics and analytics, and copyright and legal issues. More information is available at www.uindy.edu/school-for-adult-learning/digital-media-management.
Both programs were created with input from local professionals in the field, who will serve as guest speakers, adjunct instructors and contacts for career opportunities. UIndy's location near downtown Indianapolis offers many opportunities for hands-on learning, internships and job opportunities.