They're here! Largest freshman class arrives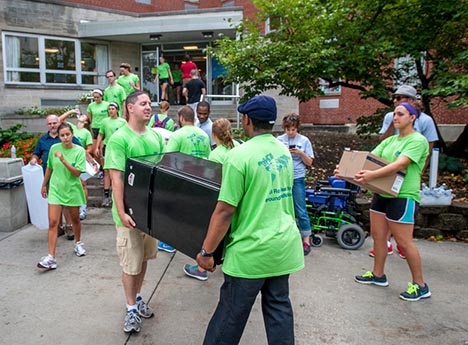 In a sure sign the 2014-2015 academic year is upon us, green-shirted Movin' Crew volunteers haul freshmen gear into Warren Hall this morning during UIndy's annual Move-In Day. After a parade of Welcome Week events, classes will begin Monday.
News coverage, photos and more:
WRTV
WXIN
WISH
WTHR
Twitter: #UIndyCreates
Facebook
The largest freshman class in UIndy's century-plus history got an introductory display of Greyhound hospitality this morning, as more than 400 faculty, staff, student and alumni Movin' Crew volunteers greeted the incoming vehicles and helped the newcomers move into the residence halls.
After the traditional Move-In Day lunch, the new students and their families gathered in Nicoson Hall for an opening convocation that included words of wisdom from university leaders and noted alumni.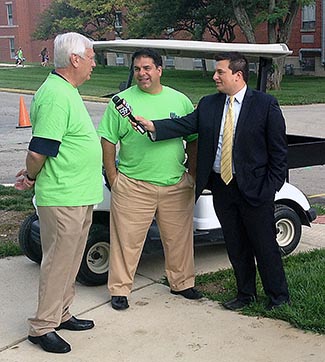 Board of Trustees Chair Tom Martin, president of Bloomington Ford, recalled his own UIndy days, as a member of a much smaller class.
"UIndy will prepare you for life and career in ways that you are perhaps not able to understand today," he told the newbies.
The keynote speaker was Linda Dillman, chief information officer for QVC Inc. and previously for Wal-Mart, who traced her own remarkable career path from UIndy student to executive assistant to global corporate executive.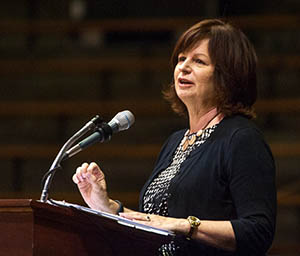 "You are entering what I think is probably the most exciting and impactful part of your life," Dillman said.
At least 930 freshmen, a 16 percent increase from 2013, are beginning their UIndy educations this year, along with more than 200 students transferring from other institutions. Hailing from 17 states and many nations, most notably China and Saudi Arabia, the freshmen also are likely to set a new record with their combined GPA, currently projected at 3.47 on a 4.0 scale. The group includes 15 valedictorians and six salutatorians.
At the convocation, they received some valuable advice from upperclass student Alexis Fort, who urged them to take advantage of all the opportunities available.
"Say yes to campus life," she told the crowd. "Jump in with both feet."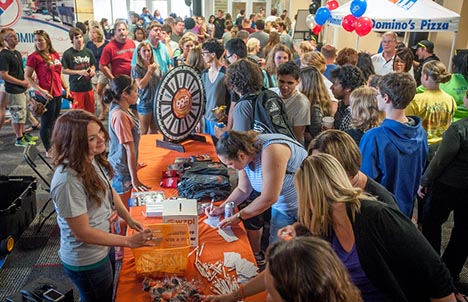 Local radio personality and UIndy communication alum Nikki Reed (left) staffs the WZPL-99.5 FM table in Schwitzer Student Center on Move-In Day.