Tickets announced for Oct. 22 Tyson talk
Seating is limited for appearance by science star, 'Cosmos' host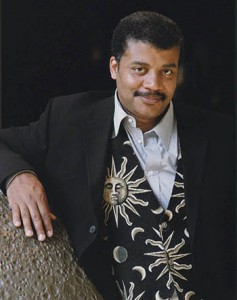 Read Indianapolis Star interview
UPDATE: The event has been moved to UIndy's Nicoson Hall arena.
Internationally known astrophysicist Neil deGrasse Tyson, host of the updated Cosmos science television series, will speak Oct. 22 at the University of Indianapolis.
"This Just In: Latest Discoveries in the Universe" is the theme of Tyson's presentation, which will begin at 7 p.m. in Nicoson Hall, 1400 E. Hanna Ave. A question-and-answer session will follow.
Admission is free, but seating is limited. Tickets for the general public will be available starting at 11 a.m. Sept. 9 through the Event Ticketing Center at the auditorium. Tickets may be obtained in person, by phone at (317) 788-3251 or online at www.uindy.edu/ETC (recommended).
For the UIndy community, tickets will be available Sept. 2 for students (one per order), Sept. 3 for faculty and staff (one per order) and Sept. 4 for alumni (two per order). Visit www.uindy.edu/ETC for details.
On Oct. 22, doors will open at 6 p.m., and any seats unclaimed by 6:45 p.m. will be available on a first-come, first-served basis. Visitors unable to obtain seating are invited to view a live video feed in Schwitzer Student Center's UIndy Hall.
Tyson is director of the Hayden Planetarium at the American Museum of Natural History in New York City. Cosmos: A Spacetime Odyssey is a high-tech reboot of the groundbreaking 1980 PBS series that demystified deep science for general audiences and made host Carl Sagan a pop icon. It aired from March to June on the Fox and National Geographic networks and is now available on Blu-ray and DVD. Sagan's widow and collaborator Ann Druyan and writer-director-actor Seth McFarlane were executive producers of the series, which earned 12 Emmy Award nominations and won in four categories.
Stargazing at UIndy — Oct. 21
The Tyson appearance is part of the university's Blanche E. Penrod Lecture Series and a highlight of Homecoming Week festivities on the UIndy campus. On the previous night, Oct. 21, faculty from the Department of Physics & Earth-Space Sciences will guide visitors in stargazing from the university's central Smith Mall and from its Noblitt Observatory in Lilly Science Hall, which features 8-inch reflector and 8-inch refractor telescopes.