VIDEO: PT school issues Ice Bucket Challenge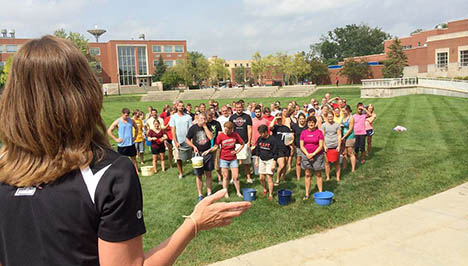 Associate Professor Stephanie Combs-Miller instructs physical therapy colleagues and students in dousing themselves with ice water. (Click photo to see video.)
Oh, yes, like the rest of the world, UIndy is getting caught up in the ALS Association's viral Ice Bucket Challenge campaign.
Given that amyotrophic lateral sclerosis is a neurodegenerative disease that affects muscle control, it's fitting that the latest example on Thursday afternoon came from the faculty and students of the Krannert School of Physical Therapy. About 60 folks doused themselves on Smith Mall after a countdown by local resident Steve Holdaway, who has lived with ALS for 15 years. He is a member of the school's Community Patient Resource Group, people with disabilities who volunteer their time to give PT students experience working with real patients.
The KSPT group also passed along the challenge to UIndy's School of Occupational Therapy and the PT schools at Indiana University and the University of Evansville, daring them to follow suit. And a donation on behalf of KSPT will go to the local ALS Association's Indiana Chapter.
See more photos on the KSPT Facebook page, and learn more about ALS and the challenge here.