'Challenge' supports Greyhound athletics
Already known for athletic and academic excellence, the UIndy Greyhounds are seeking support to cement their status among the elite of NCAA Division II.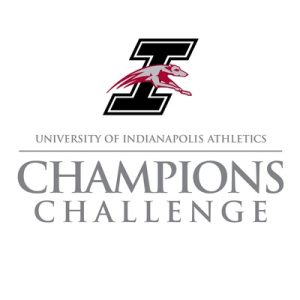 Launched this summer, the one-year Champions Challenge campaign aims to generate funding for programs and capital improvements in the Department of Athletics.
An anonymous donor has pledged $250,000 toward a matching gift program, with all new unrestricted gifts of at least $25 to UIndy Athletics qualifying for a 2-to-1 match. For those who provided support last year, the 2-to-1 match also applies to any increase in unrestricted giving of at least $25. Renewed unrestricted gifts to the Greyhound Club booster organization will qualify for a 1-to-1 match. The funds will address a variety of needs.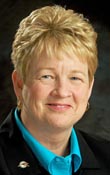 "Our student-athletes have performed extremely well in competition and in the classroom, and they deserve the best experience we can provide for them," said Vice President for Intercollegiate Athletics Sue Willey, a Greyhound Hall of Fame athlete who was named Under Armour Division II Athletic Director of the Year for 2012-13.
The Greyhounds wrapped up the 2013-2014 year by placing fourth among 312 D-II institutions in the Learfield Sports Directors' Cup, awarded by the National Association of Collegiate Directors of Athletics based on overall success in NCAA-sponsored championships. UIndy is among just five D-II institutions to earn three consecutive Top 10 finishes in the Directors' Cup standings.
For the third-straight year, UIndy led the Great Lakes Valley Conference with 223 Academic All-GLVC athletes and claimed the GLVC All-Sports Trophy, awarded for best all-around performance in the league's 20 sponsored sports. The Greyhounds also won this year's GLVC Commissioner's Cup, a traveling trophy awarded for success in the seven core conference championship sports.
UIndy offers 21 men's and women's sports, a number soon to grow with the addition of Indiana's first D-II men's and women's lacrosse program.
To contribute or learn more about the Champions Challenge, please visit www.uindy.edu/championschallenge.