Today: Faculty Forum kicks off with Chemistry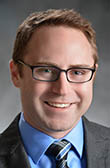 The monthly Faculty Forum lunchtime presentation series begins its 2014-2015 season today with Dr. Brad Neal, assistant professor of Chemistry.
Neal's talk, "Use of Google Drive in Chemistry Labs," runs from 12:30 to 1:30 p.m. in the Trustees Dining Room at the east end of Schwitzer Student Center. He will discuss how the Google Drive app has helped in redesigning labs to collect data from student experiments and enrich the educational experience.
Faculty Forum is coordinated by the College of Arts & Sciences as an opportunity for all UIndy faculty to showcase their scholarly pursuits for students, staff and colleagues and to stimulate interdisciplinary collaboration. Drinks and snacks are provided, and attendees are encouraged to bring brown-bag lunches.
The series continues this fall with:
Dr. Michael Cartwright, noon to 1 p.m. Oct. 1, Schwitzer 012.
Associate Professor Tracy Marschall, 12:30 to 1:30 p.m. Nov. 6, Trustees Dining Room.
Dr. Stephen Nawrocki, noon to 1 p.m. Dec. 3, Trustees Dining Room.