New advisor touts study-abroad opportunities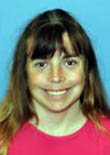 Dr. Julie Kiefer's life was changed by her three study-abroad experiences as a UIndy student, and now she wants to share the world with other Greyhounds.
Wielding a Ph.D. and a decade of experience as a public school teacher, the Esch Scholar and Honors College graduate (Class of 2000 and 2004) has returned to her alma mater as the new Study Abroad Advisor.
"I know from personal experience the incredible impact studying abroad can have," she says.
Students have a great opportunity to learn more at next week's Study Abroad Fair, taking place from 11:30 a.m. to 1 p.m. Monday through Thursday in the Schwitzer atrium.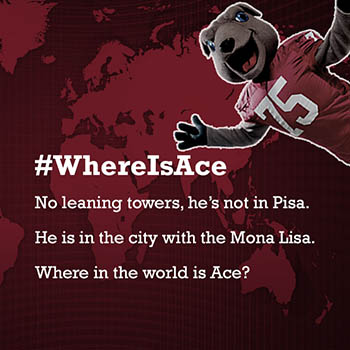 Meanwhile, Kiefer has teamed with the Communications & Marketing staff to launch a fun campaign to spread the word and provide small scholarships to help students undertake a semester abroad. "Where in the World is Ace?" is a weekly contest that invites students to complete a rhyming riddle about some international destination.
Answers can be submitted to the Study Abroad Office in Schwitzer 211 or at the table Kiefer staffs from 11 a.m. to 1 p.m. every Monday, Wednesday and Thursday in the Schwitzer atrium. Each week, four students win prizes, and their names go into a drawing that will award $250 study-abroad scholarships to four students twice each year. Contest rules are here, and you can follow the contest on Twitter at #WhereIsAce.
Kiefer also plans to make classroom presentations about opportunities for students, and next semester will bring the launch of the Flat Ace Campaign, in which students traveling abroad will be encouraged to take along a cutout of the UIndy mascot for photos in exotic settings, with prizes awarded in various categories.
More information on study-abroad opportunities at UIndy is available at international.uindy.edu/studyabroad.