Greyhounds geared up for home opener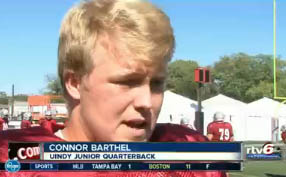 The UIndy football team faces Michigan's Hillsdale College in its first home game of the season Saturday at Key Stadium.
The Hounds (2-1) are feeling good after trouncing Southwest Baptist 48-14 last week in their first GLVC contest of 2014.
"We're starting to get on the same page," junior quarterback Connor Barthel told WRTV. "Our entire team feels a lot closer going into this fourth game."
Kickoff is at 6 p.m. Since 1997, the Hounds are 10-4 against the Chargers, 6-1 at home.
For those who can't get out in person to enjoy Tailgate Town and the gridiron action, this season's home games will be televised and streamed. The Hounds' first three home dates will air on WRTV 6.2 HTSN, the RTV6 app and online at theindychannel.com. Replays of tomorrow's game will air on HTSN at 10 p.m. Saturday and 2 p.m. Sunday. Click here to find HTSN on your cable system.
Better yet, the Greyhounds will get some national attention Oct. 30 when their matchup with in-state rival Saint Joseph's is broadcast as the CBS Sports Network NCAA Division II Game of the Week.
As always, all you need to know about Greyhound football can be found at the Athletics website.