Faculty Forum: Catholic contributions to UIndy
Although the University of Indianapolis was founded by a Protestant denomination (the United Brethren in Christ, which became part of the United Methodist Church), Roman Catholic students, faculty and staff members have played important roles in its history.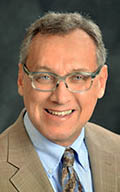 Michael Cartwright, dean of Ecumenical & Interfaith Programs and associate professor of Philosophy & Religion, will explore those contributions Wednesday in the next installment of UIndy's Faculty Forum lunchtime presentation series. His talk, "Catholicity and the History of the University of Indianapolis," is scheduled noon to 1 p.m. Wednesday in the Trustees Dining Room of Schwitzer Student Center.
Dr. Cartwright, who also serves UIndy as special assistant to the president for mission, will focus in particular on how Christian unity and interfaith engagement have made the university a more inclusive community of learners.
As always for Faculty Forum, brown bag lunches are welcome, and cookies and drinks will be served.