Training sessions help decode dementia care
UIndy, IU experts collaborate on program for nursing home employees
The behavior of dementia patients can pose challenges for nursing home staffers, especially if those workers don't realize that their own actions are often part of the problem.
Beginning today, however, a special six-week training course developed by University of Indianapolis and Indiana University experts will teach nearly 40 nurses and other employees from 19 central Indiana long-term care facilities how to avoid creating stressful situations and therefore rely less on medication to help patients manage their behavior.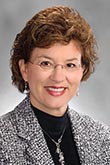 "It's not just memory that is affected with dementia; we need to recognize that their perception of the world is altered," says Ellen Miller, executive director of UIndy's Center for Aging & Community. "There are all sorts of things that we can do to prevent challenging behaviors before they start. This makes life better for both the resident and the staff."
People with dementia have limited ability to understand and respond to conversation, TV programming and other everyday stimuli, says Anne Thomas, dean of UIndy's School of Nursing and one of the developers and instructors for the training sessions. Some patients are troubled by seeing themselves in mirrors, she says. With others, facing simple choices about clothing or food can fuel frustrations and lead to aggressive behavior.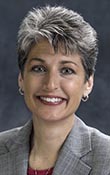 "They live literally in the moment, and there is no new learning," Thomas says. "If you give choices, they get overstimulated, and you've created a problem that didn't need to be."
The training program will include interactive one-on-one exercises with actors posing as dementia patients exhibiting aggressive and nonaggressive negative behavior, both verbal and physical. The sessions will be videotaped for analysis and discussion, giving participants useful tips and concepts that they can put into practice where they work and share with colleagues and even their patients' families. The weekly half-day sessions begin today and will continue through Nov. 5 at Fountain Square Center, a community health facility on Shelby Street.
"It's a very experiential kind of training," Thomas says. "The idea is to empower the staff to go back and treat these behaviors without medication."
In addition to Thomas and Miller, the team behind the program includes Monica Tegeler, a physician and assistant professor in IU's Department of Geriatrics; and Amy Pemberton, a registered nurse who works at Kindred Transitional Care and Rehabilitation in Greenwood.
All four are involved in OPTIMISTIC (Optimizing Patient Transfers, Impacting Medical Quality and Improving Symptoms: Transforming Institutional Care), a four-year effort funded by the federal Centers for Medicare and Medicaid Services. Now in its third year, the initiative led by IU and the Regenstrief Institute is working with 19 central Indiana nursing facilities to improve care, reduce hospitalizations and increase access to palliative care for long-term nursing facility residents. Specially trained nurses such as Pemberton are stationed in each participating facility to promote best practices and better communication among staff members. Thomas co-chairs the OPTIMISTIC advisory board, Miller serves on the lead project team, and the Center for Aging & Community staff coordinates all training for participating nurses and nursing home personnel.
Professionals working with dementia patients seldom have opportunities to learn and try out new skills in a safe, hands-on setting, Miller says, which is what makes this training program unique.
"You can talk about these approaches all you want, but you have to practice the techniques for them to become part of your regular approach," she says. "You have to look for the root cause of a behavior and come up with a strategy to prevent the behavior in the future."