Musical comedy 'Urinetown' opens next week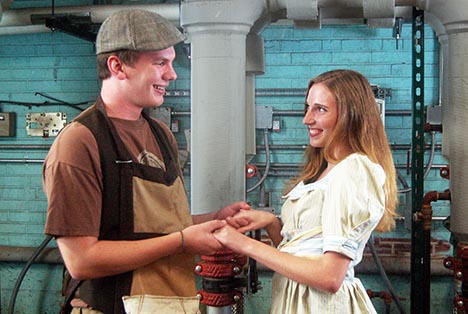 Andy Wegg and Elise Campagna lead the cast for UIndy's production of "Urinetown: The Musical," a satire of corporate greed and the Broadway musical form itself.
The UIndy Department of Theatre will launch its 2014-2015 season this month with a musical tale of corruption, courage and … pay toilets?
Winner of three Tony Awards, Urinetown: The Musical opens to the public Oct. 17 in Ransburg Auditorium, with a free preview at 8 p.m. Thursday, Oct. 16.
A social satire that parodies the musical form itself, Urinetown tells the story of a Gotham-like city suffering through an extended water shortage, which prompts a ban on private toilets and forces the residents to use public facilities operated for profit by an unscrupulous company. The original Broadway production opened in 2001 and won Tonys for Best Direction, Best Book of a Musical (Greg Kotis) and Best Original Score (Mark Hollmann and Greg Kotis).
Leading the cast are Andy Wegg as heroic janitor Bobby Strong; Elise Campagna as his love interest, Hope Cladwell; Ron Dukes as corporate villain Caldwell B. Cladwell; Ivy Bott as hard-nosed restroom manager Penelope Pennywise; Daryl Holonquest Jr. as principal narrator Officer Lockstock; and India Van Camp as wily street urchin Little Sally.
Directed by faculty members James Leagre and Pete Schmutte, the production features live musicians whose antics are part of the comedy. It also contains adult content that may not be suitable for all audiences.
Performances are scheduled for 8 p.m. Oct. 17-18, 2 p.m. Oct. 19 and 8 p.m. Oct. 23-25. Admission is free for UIndy students, faculty and staff. Tickets for the public are $12 general admission, $10 for seniors, groups of eight or more and non-UIndy students with ID. Admission to the Oct. 23 show will be just $6 under the new Half-Price Second Thursday program. More information is available at (317) 788-3251 or www.uindy.edu/arts.