Flag celebration features nearly 80 nations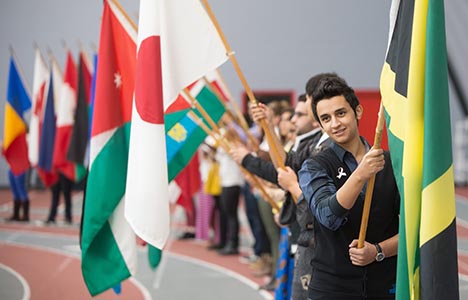 Sophomore marketing major Sultan Salamh of Saudi Arabia offered to carry the Jamaican flag in Thursday's Celebration of the Flags opening procession.
Thursday was cool, wet and gray outside, but the atmosphere in UIndy's Athletics & Recreation Center was warm and colorful.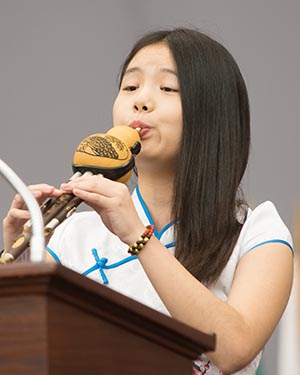 Once again, UIndy put its international flavor on display with the 26th annual Celebration of the Flags, that fun and moving fall favorite that recognizes the many home countries of our current students, faculty and staff. Nearly 80 nations were represented in this year's edition, the first ever staged inside the ARC.
After the flag procession, the program featured remarks from junior Business major Roshanne Smith of the Bahamas, student government President Tyler Offutt and university President Robert Manuel. Three students from UIndy's joint degree program with the Ningbo Institute of Technology – Daisy Wang, Denny Lou and Penwin Wang – performed traditional Chinese music.
Later the crowd enjoyed international snacks and activities at four tables representing China, Saudi Arabia, India and the nations of Africa, which account for a large portion of the university's international student body.
More photos can be seen at the UIndy Facebook page.