Lacrosse coaches get introduction to campus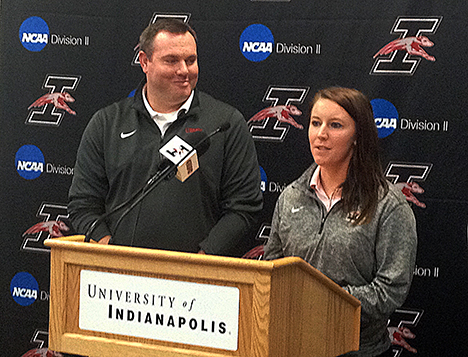 Greg Stocks and Jillian Howley are off to a strong start in recruiting UIndy's first lacrosse teams, they say, with promising prospects from coast to coast.
The husband-wife coaching duo for UIndy's new men's and women's lacrosse program were introduced to campus Thursday at a meet-and-greet arranged by the Department of Athletics.
Greg Stocks and Jillian Howley come from similar head coaching positions at Division II Lake Erie College in Ohio. They got married just before landing the UIndy jobs this spring, and they've spent most of their time since then on nationwide recruiting trips. The men's game requires 12 players, the women's game 10, and each coach expects to carry a roster roughly double that size.
Both noted UIndy's reputation as a D-II powerhouse and expressed gratitude for the warm welcome they've received so far in Indianapolis. They still seemed pleasantly surprised to be sharing new career opportunities as a sort of wedding gift.
"I couldn't have written it any better," Howley said.
Dr. Sue Willey, vice president for Intercollegiate Athletics, noted their records of success and the fact that Stocks has experience with building new teams, having launched Lake Erie's program in 2007 and molded it into a nationally ranked championship contender.
Calling the new coaches "a great fit for the University of Indianapolis," Willey acknowledged that UIndy's gain was someone else's loss.
"Probably my newest enemy is the AD at Lake Erie," she joked.
The Eastern College Athletic Conference announced last week that it has accepted UIndy men's lacrosse as a full member. The women's team is expected to join the Great Lakes Intercollegiate Athletic Conference. UIndy's first lacrosse season will come in Spring 2016.
Learn more about the coaches and Indiana's first D-II lacrosse program at UIndy Athletics.