Health faculty team to foster collaboration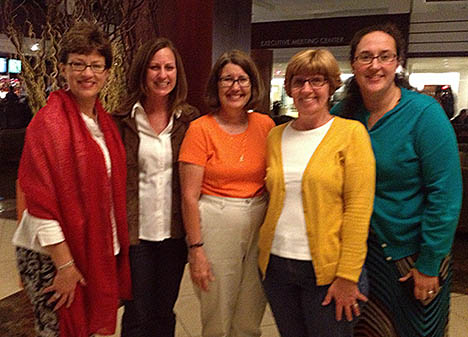 Attending the recent Interprofessional Education Collaborative Fall Institute were UIndy's Ellen Miller (left), Stephanie Combs Miller, Lori Rasmussen, Michelle Meer and Kate DeCleene Huber, representing various disciplines on campus.
The effort to spark greater collaboration among UIndy's various health- and wellness-related disciplines – as embodied in the new Health Pavilion that will house them all together next year – got a shot in the arm earlier this month when five faculty members traveled to the Interprofessional Education Collaborative's Fall Institute near Washington, D.C.
IPEC is dedicated to advancing interprofessional education, in which students from different health professions work together and learn from each other, reflecting the collaborative nature of today's healthcare workplace.
Comprising the UIndy contingent were Ellen Miller, executive director of the Center for Aging & Community and interim associate provost for research, graduate programs and academic partnerships, along with Stephanie Combs Miller from Physical Therapy, Lori Rasmussen from Nursing, Michelle Meer from Social Work and Kate DeCleene Huber from Occupational Therapy. Now the group plans to organize faculty development sessions and help promote interprofessional efforts among their colleagues and students, Huber says, as recommended by the World Health Organization and other authorities.
"When students graduate, they're not working in a silo; they're part of a larger healthcare team," she says. "The more we can prepare students for that, the better the outcome is for patients."
One possibility would be mixing together nursing, occupational therapy and social work majors, for example, into interprofessional teams for lab courses that simulate hospital settings. Other colleges, depending on their offerings, have even incorporated students from mortuary, law and religion programs, as those professions also have roles to play in patient care, Huber says.
"The possibilities are endless," she says. "All of our professions have so much to offer patients, and they're more valuable when they can be integrated."