Students, staff collaborate on new My UIndy
If you like the new look, structure and functionality of My UIndy – the university's intranet for students, faculty and staff – you can thank a months-long collaboration between the Information Systems staff and students in the Department of Art & Design.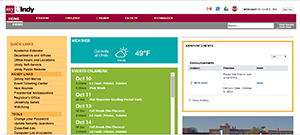 Brianna Gannon, Kathleen Graves and Aaron Yoder were juniors last spring when the My UIndy overhaul became a project for One14 Design Studio, the art department's student-run creative agency.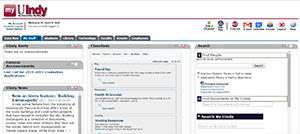 While the IS staffers handled the heavy lifting of data transfer and system integration, the students redesigned the My UIndy logo, revamped the home page and scoured the site for redundancies and opportunities to improve usability.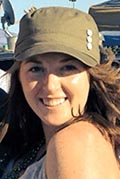 "We went through each page, clicked on every single link," says Gannon, a Visual Communication Design major from LaPorte. "It's been really awesome working with back-end developers in the process. We learned a lot, and it was fun."
Web Services staffer Kathy Ellis, who spearheaded the conversion as portal and content management system administrator, said the input was invaluable. The students advocated for a seamless integration of ACE and other services with a single sign-in, and they brought a fresh perspective on which information was most important to users.
"They were very frank with their opinions on what was wrong with the old system, and many of them I agreed with," Ellis says. She was especially impressed when Gannon called her over the summer, just to check on the progress. Now Gannon has a student job in the department and assisted with the rollout of the new My UIndy.
Ellis' favorite parts about the new system: Users can navigate more freely without accidentally logging themselves out, and they can share pages and documents via email with URLs, rather than having to specify a sequence of tabs, channels and clicks.
"The overall organization just makes a lot more sense," Ellis says.
One14 Design Studio is the focus of a 300-level Applied VCD course that enables students to tackle real design projects for clients on and off campus. It will be led this spring by Associate Professor Julia Taugner and Assistant Professor Johnny DiBlasi, who takes over from former faculty member Nelson Wei Tan.
Gannon says the class provided valuable insight into her future career as a digital designer.
"The great thing is you're getting great experience and doing really great work for free," she says.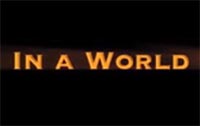 As an inside joke that later became part of the campus rollout for the new My UIndy, IS staffer and adjunct instructor Scott McDaniel, with writing assistance from student Chessie Zappia, produced a witty preview video in the style of a melodramatic Hollywood trailer. Watch it here.