Alumni awards honor leaders, volunteers
Recipients include Eli Lilly & Co. executive, conductor Leppard
Business leaders, public servants and even an acclaimed symphony conductor were among the honorees Friday when the University of Indianapolis presented its 2014 Alumni Awards. The annual Alumni Honors & Recognition Banquet is one of the university's Homecoming Week traditions.
This year's awards and recipients are:
DISTINGUISHED ALUMNUS AWARD
Stephen F. Fry
Senior Vice President, Human Resources and Diversity, Eli Lilly & Co.


This award recognizes outstanding professional accomplishments or longtime service in a chosen occupation or profession. Fry earned his bachelor's degree in information systems from UIndy in 1987 and joined Lilly Research laboratories as a systems analyst, rising through various managerial positions in the U.S. and abroad before assuming his current role in 2011. He also serves on the UIndy Board of Trustees and the governance board for Make-A-Wish in Ohio, Kentucky and Indiana.
DISTINGUISHED FACULTY/STAFF ALUMNUS AWARD
Mark Weigand
Executive Vice President for Campus Affairs and Enrollment Services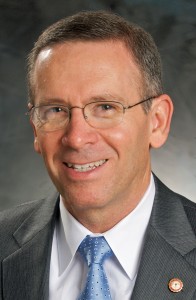 This award recognizes current faculty or staff who are alumni and who have demonstrated consistent dedication and superior service at the university. Weigand has served on the UIndy staff for more than 30 years and has helped shape the enrollment growth that has transformed the campus. The 1978 graduate remains a strong advocate for first-generation scholarships.
EDUCATION FOR SERVICE AWARD
Dennis C. Thompson, community volunteer, Hunger Inc.
This award recognizes an alumnus or alumna whose life work has exemplified a fulfillment of the philosophy underlying the UIndy motto, "Education for Service." Thompson graduated in 1973 with a bachelor's degree in chemistry and retired from Eli Lilly & Co. after a long career as a research chemist. Since 1987, he has volunteered at Hunger Inc. food pantry on Indianapolis' south side, serving nine years as president, organizing events, training other volunteers and contributing time and effort to nearly every aspect of the operation.
GENE AND JOANNE SEASE AWARD
Named in honor of a former UIndy president and his wife, this award recognizes couples who contribute their time, talent and treasure to the university. At least one member must be a UIndy graduate.
Ted and Anne Polk
Ted Polk led the campus food service operation for four decades before retiring this year. The Polks are known for their dedication to UIndy students, their charity efforts and their participation in campus events.
Ron and Laura Strain
Ron Strain, who earned his business administration degree and lettered in tennis at UIndy, retired in 1993 from the Miller Brewing Co. as Vice President of Finance and Treasurer. Laura Strain also attended classes at UIndy and retired as the Senior Vice President of Marketing & Public Relations for U.S. Bank. Both have served on many corporate boards, and both currently serve on the UIndy Board of Trustees.
HONORARY ALUMNI AWARD
This award recognizes and honors individuals who are not graduates of the University of Indianapolis but have demonstrated their commitment to the institution over a significant period of time.
Carolyn Coleman, Director of Federal Relations, National League of Cities
A former deputy mayor of Indianapolis, Coleman now represents municipal governments in matters facing Congress, the executive branch and the courts. She has served on the UIndy Board of Trustees since 2000 and was instrumental in helping UIndy successfully create and host high profile events for its Institute for Civic Leadership & Mayoral Archives.
Maestro Raymond Leppard, Conductor Laureate, Indianapolis Symphony Orchestra
Maestro Leppard has served as artist-in-residence at UIndy for more than 20 years, since the opening of the Christel DeHaan Fine Arts Center. Known as one of the world's great conductors, he spent 14 seasons as music director for the ISO and has received many other honors, including Commander of the Order of the British Empire.