UIndy to present three Spirit & Place events
The annual Indianapolis Spirit & Place Festival will have its 19th run from Friday through Nov. 16, with nearly 40 events and exhibitions around the city reflecting the theme "Journey."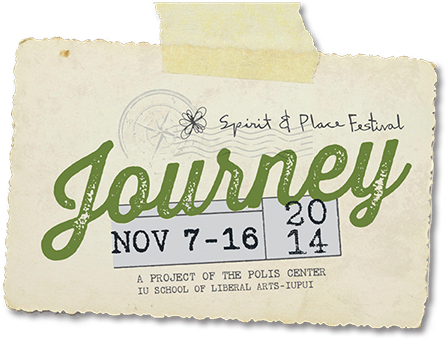 Three of those events are hosted by people and groups at UIndy, a longtime partner with The Polis Center in presenting the festival. Full information on events and registration is available at www.spiritandplace.org.
On Monday, UIndy's Faculty Artist Concert Series will present "Musical Journeys of Immigrant Composers" at 7:30 p.m. in the Christel DeHaan Fine Arts Center's Ruth Lilly Performance Hall, 1400 E. Hanna Ave. The free concert will feature faculty pianists Elisabeth Hoegberg and Rebecca Sorley, mezzo-soprano Mitzi Westra and Indianapolis Symphony Orchestra cellist Ingrid Fisher-Bellman performing works by Sergei Rachmaninov, Kurt Weill and other composers who fled oppression in their homelands.
In collaboration with the Immigrant Welcome Center of Indianapolis, the performances and discussion will explore how these journeys influenced the life of each composer and created a lasting musical legacy. Representatives from the center will provide additional perspectives on the immigrant experience. More information is available at (317) 788-3255 or www.uindy.edu/arts.
On Nov. 12, UIndy's Center for Aging & Community will host "From Age-ing to Sage-ing," a free presentation and discussion from 1:30 to 3:30 p.m. at the Wheeler Arts Community, 1035 Sanders St. in Fountain Square. Older adults and caregivers will learn how journaling and other techniques can help make the final third of life into a time of sharing and contributing. The featured speakers are Rosemary Cox, an educator and program designer for Memorial BrainWorks in South Bend, and Elizabeth Weber, a published poet and associate professor of English at UIndy.
The event is presented in collaboration with Memorial BrainWorks and Sage-ing International. More information is available at (317) 791-5930 or amagan@uindy.edu.
On Nov. 13, UIndy will host "Engaging & Celebrating the Burmese of Central Indiana," a chance to enjoy the culture and cuisine of Burma while learning about the challenges faced by Burmese refugees. Coordinated by the Office of Service Learning & Community Engagement, students and faculty from many disciplines will join in staging the event. The documentary film The Exodus of the Burmese Refugees will be screened, and a keynote address will be delivered by Jane Gehlhausen, director of International and Cultural Affairs for the City of Indianapolis.
Presented in partnership with the Burmese American Community Institute, the event will run from 6 to 8 p.m. in UIndy Hall of Schwitzer Student Center, 1400 E. Hanna Ave. More information is available at (317) 788-3557 or mfoulkrod@uindy.edu.