Officer's mission: self-defense for women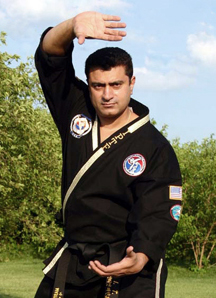 The UIndy community knows Javed Khan as a friendly and helpful campus police officer, but many others know him as the founder of Fighting Arts Academy International, a network of instructors offering martial arts and self-defense training for all ages in places as far-flung as the United Arab Emirates and his native India.
Earlier this week, one particular program drew the interest of a WRTV news team. Women Against Rape & Domestic Abuse, developed by Khan in the late '90s, is a practical approach to physical self-protection for women. More than 20,000 women worldwide have undergone free WARDA training, he says. Here in Indiana, many police officers and law enforcement instructors have learned the system and have become certified WARDA instructors themselves.
"If I can empower these women, I can make them stronger and make them stand up for themselves, I think I am doing a great social service," Khan told Channel 6. Watch the report here.
More information is available at the WARDA Facebook page.