Event tonight celebrates Burmese culture
The culture of our city's Burmese immigrant community – at least 9,000 strong and growing, especially on the Southside – is the focus of a student-organized public event tonight at UIndy.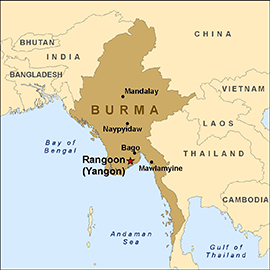 Performing arts, food, children's games and guest speakers are all part of "Engaging & Celebrating the Burmese of Central Indiana," which will run from 6 to 8 p.m. in Schwitzer Student Center. Part of this year's Spirit & Place Festival, the free event is sponsored by the university and the Burmese American Community Institute.
Students from UIndy's Experience Design program led the planning, in collaboration with Kinesiology majors and students from a Community Service Learning course who also will assist with the execution.
"This is really driven by the students of the university and the residents of Perry Township," says Marianna Foulkrod, director of Service Learning & Community Engagement. "We talked about designing an experience to celebrate not just the people of Burma, but also the people of Indianapolis who have worked together with them."
A repressive regime in Burma, now known as Myanmar, has fueled a wave of refugees from the southeast Asian nation, especially members of the Chin and Karen ethnic groups. Many Indianapolis residents, churches and community groups have helped the immigrants settle in the city.
Tonight, Schwitzer Center's UIndy Hall conference space will feature an array of booths highlighting Burmese language and culture, with snacks provided by Kimu Restaurant in Greenwood. A stage will feature singers, storytellers and remarks from prominent members of the Burmese community, as well as a 6:30 p.m. keynote presentation by Jane Gehlhausen, director of International and Cultural Affairs for the Mayor's Office.
Nearby in the center's Atrium, Kinesiology students and Burmese students from local high schools will be performing and teaching a traditional "bamboo dance," among other activities. All attendees will be invited to join in a group dance at 7:50 p.m. to close the event. In an adjacent lounge area, a video monitor will screen "The Exodus of the Burmese Refugees," a documentary produced by UIndy Communication major Kayla Sullivan.
For more information, contact Marianna Foulkrod at (317) 788-3557 or mfoulkrod@uindy.edu.