UIndy ranks among Top 5 business news videos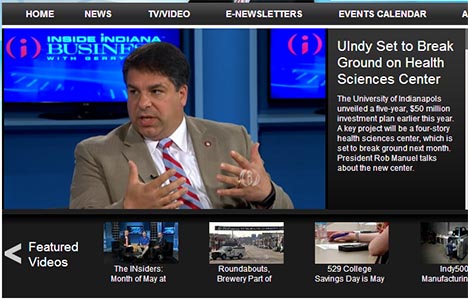 As news outlets look back on their top stories of 2014, it's clear that UIndy's campus and neighborhood development plans piqued the interest of the state's business community.
An interview segment with President Robert Manuel was the fifth most popular video produced and posted last year by Inside Indiana Business with Gerry Dick and its widely read Inside Edge daily e-newsletter.
"Video is a key element of our online news platform," the multimedia business news outlet said in announcing its Top 10 videos. "From the hundreds of videos we produced in the past year, we've compiled our Most Viewed of 2014."
Host Gerry Dick's interview with Dr. Manuel detailed UIndy's $50 million development plan, which includes the ongoing construction of the four-story Health Pavilion, an extensive renovation of Krannert Memorial Library, new science labs, new townhouses to replace aging campus apartments and other upgrades in facilities and programming.
See the "Most Viewed" list here.
Watch Dr. Manuel's interview here.