An update from Executive Vice President & Provost Stephen Kolison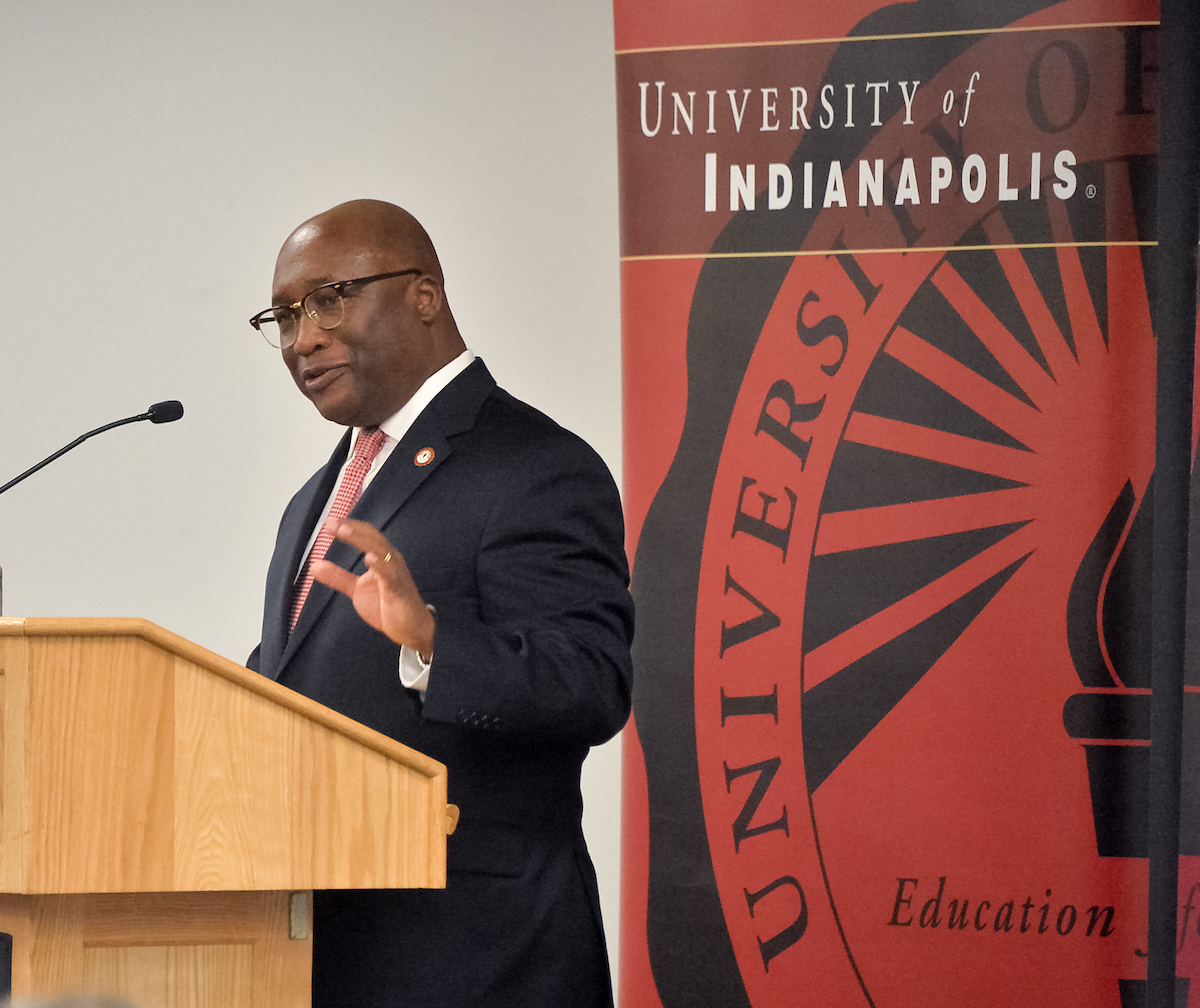 Thank you for the warm welcome to my new home, the University of Indianapolis. The past month has provided many opportunities to meet with and hear from faculty, staff, students, trustees and our university community. Thank you for sharing your thoughts with me regarding the role of the Executive Vice President and Provost.
My conversations across the University have been very positive, enlightening, encouraging, helpful and enjoyable. If I have not reached your area yet, please be assured that my visits will continue until I have reached every department/unit across the University. In the meantime, if there is something you want me to learn sooner rather than later, please contact Melodie Kent to arrange a time for us to meet or email provost@uindy.edu.
You might be curious about what I am learning from my visits. Of course, the list is long, as you might imagine. We have discussed topics ranging from: shared governance; student success; teaching load; class size; enrollment; new programs and academic direction; international engagement and opportunities; teaching and learning; filling the dean positions in the Shaheen College Arts and Sciences (SCAS) and the School of Education (SOE); service learning; MEGA; School for Adult Learning; student wellness; provost accessibility and communication; promotion and tenure; diversity and inclusion; achievements of our students, faculty, and staff; faculty and instructional development; leadership development; accreditation; sponsored research and grants administration; academic technology; instructional space and customization; interdisciplinary studies; athletics; to facilities. Again, these discussions have been positive and very helpful. I am sure there is more to learn as I make my way to other areas.
These conversations are contributing to the formation of my priorities and goals for the new academic year as well as subsequent years. Immediate priorities include (1) filling the positions for the deans of the SCAS and SOE and (2) working with President Manuel and the committee appointed to address the faculty teaching load.  Regarding the searches, I have had my initial meetings with the faculty of SCAS and SOE to discuss their interests. There will be more updates and details regarding the searches as we make progress.
Two other areas raised during my discussions and listening sessions included: (1) the need to develop an integrated, collaborative, broader and more robust strategy for international engagement while minimizing legal and financial risks; and (2) enhancing shared governance. Hence, as an initial step in the reorganization of the Office of the Executive Vice President and Provost with an eye on the future, I have pursued the establishment of the position of Associate Provost for International Engagement and Shared Governance that will report to me directly. The scope of the position will encompass: (1) oversight for the cultivation of international opportunities and engagement to benefit our students and faculty; and (2) to build upon what has been achieved in our efforts to model best practices in shared governance.
However, rather than engaging in a long and expensive national search to identify someone to fill this position, I have sought counsel regarding an individual within our UIndy academic community with international insight and experience, legal acumen, academic experience, a reputation for building and sustaining productive relationships, and a demonstrated successful leadership experience in a shared governance role. The individual recommended with this set of expertise is Dr. Jodie L. Ferise, a civil litigation attorney, an Assistant Professor in the School of Business, and the UIndy Faculty Senate President from 2015-17. Hence, I am delighted to appoint Dr. Ferise as Associate Provost for International Engagement and Shared Governance effective June 1, 2017.
I am looking forward to welcoming Dr. Ferise to the Provost's team and very pleased for her willingness to assume this challenging role. In this new role, she will have a wide range of responsibilities concerning our involvement around the world and enhancing shared governance including:
Developing policies to guide international activities with the goal of minimizing legal and financial risks;
Increasing the presence of the University around the globe in a manner consistent with the mission of the University;
Working collaboratively with Undergraduate Admissions, Graduate Programs and University Communications and Marketing to increase the enrollment of international students;
Creating more opportunities for students to study abroad and/or acquire other international experiences;
Developing and enhancing opportunities for faculty exchanges including collaborative teaching and research and;
Facilitating strategic thinking and best practices in international student recruitment and establishing international agreements, partnerships, and exchanges.
Very essential to the success of this role is assisting the Executive Vice President and Provost with:
Ensuring that the University continues to build upon and models best practices in shared governance;
Being responsive to concerns and opportunities from faculty, students, and staff related to governance; and
Addressing matters pertaining to various forms of appeals from faculty, students, and staff.
Please join me in congratulating Dr. Ferise and wishing her great success in her new role.  I want to thank President Manuel, the UIndy's senior leadership team, and the Trustees for their support in establishing this key position.
Congratulations to each of you for your contributions to the realization of an impressive academic year — nearly 1,400 graduates and a host of many other significant accomplishments. I look forward to working with you as we prepare for the 2017-18 academic year. Again, thank you for your kind support. Have a great summer!
Very truly yours,
Stephen H. Kolison Jr., Ph.D.
Executive Vice President and Provost/Professor of Biology