'People to watch' list includes President Manuel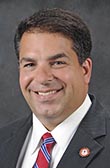 UIndy President Robert Manuel is among the local movers and shakers named to The Indianapolis Star's list of "Indy's 15 people to watch in 2015," published today.
"The University of Indianapolis president has been pushing UIndy to invest in and improve its campus and its Southside neighborhood since he took office in 2012," the article states.
Dr. Manuel is in good company. The list also includes folks like Angie's List CEO Bill Oesterle, Indiana Sports Corp. President Ryan Vaughn and Gov. Mike Pence, a possible presidential contender. See the full story here.