Meet UIndy IT: Information Systems is now Information Technology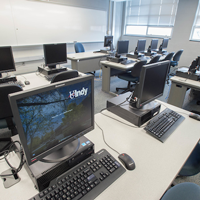 Information Technology, which used to be known as Information Systems, will be using the more common "IT" name from now on. "Information Systems was leftover as a kind of legacy," Steve Herriford, Vice President and Chief Technology Officer of Information Technology, said. "We've done a lot of work in changing our relationship with campus and focusing on customer service. As part of this rebranding, we're the new IT!" The department supports nearly 6,000 simultaneous wireless connections, over 950 people simultaneously logged into My UIndy, 679 employee computers, 615 computers in 28 computing labs, and has overseen the installation of 305 miles of fiber on campus. From the loaning of equipment to providing project management for technology implementations, Herriford wants the campus to know what services are available to them.
Read more about the IT Department and how they can help you.