Hoops showdown promises to make news
Greyhounds to host rivals Bellarmine on Thursday;
special announcement planned at half of men's game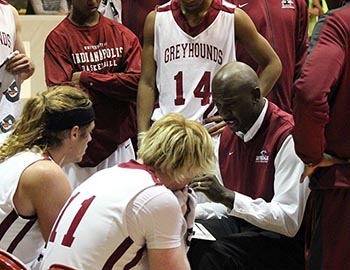 A clash of Division II basketball powers won't be the only news Thursday in Nicoson Hall, when the undefeated and third-ranked UIndy men's team hosts fourth-ranked archrivals Bellarmine University of Louisville.
At halftime of the men's game, UIndy President Robert Manuel — along with student-athletes, coaches, alumni and representatives of Ray Skillman Auto Group — will take the floor for a special announcement involving the Greyhounds' athletic facilities.
On track for a fifth consecutive trip to the NCAA Tournament under head coach Stan Gouard, the UIndy men are 13-0 on the season and 5-0 in the Great Lakes Valley Conference – the program's best start in nearly two decades. The team moved up to No. 3 in this week's national coaches poll. Read a game preview here.
The UIndy women's team, which has reached the tournament the past three seasons under head coach Constantin Popa, is 6-7 this season, 3-2 in the GLVC. They also face Bellarmine on Thursday, and a game preview is here.
The games will be televised live on HTSN, available on cable systems throughout central and southern Indiana, and broadcast by UIndy public radio station WICR-88.7 FM/HD.
UIndy Greyhounds vs. Bellarmine Knights – Thursday, Jan. 15
Women's game: 5:30 p.m.
Men's game: 7:45 p.m.