Interfaith Lecture features acclaimed journalist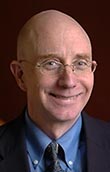 Award-winning journalist Gustav Niebuhr will discuss religious intolerance and stereotyping in a Feb. 10 lecture at the University of Indianapolis.
Niebuhr, whose career has included covering religion for the New York Times, the Washington Post and the Atlanta Journal-Constitution, is the author of Beyond Tolerance: How People Across America Are Building Bridges Between Faiths. He is an associate professor at Syracuse University and founding director of its Carnegie Religion and Media Program.
His presentation, "Beyond Tolerance:  Combating Religious (and Other) Stereotyping in a Dangerous Time," will begin at 4:30 p.m. Feb. 10 in Schwitzer Student Center's McCleary Chapel. Responding to his remarks will be Julie A. Belz, associate professor of Applied Linguistics, English, and World Language and Cultures at IUPUI. The event is the third annual installment of UIndy's Interfaith Lecture series and is cosponsored by the Indianapolis-based Center for Interfaith Cooperation.
Niebuhr comes from a family of prominent theologians and public intellectuals, including his father, Richard Niebuhr, who taught theology at Harvard Divinity School; his grandfather H. Richard Niebuhr, who taught at Yale Divinity School; and his great-uncle Reinhold Niebuhr, who taught at New York's Union Theological Seminary and influenced American politics for decades with his writing and speaking.
Gustav Niebuhr has won numerous awards for his reporting on religious issues in the United States and abroad, including the 2010 William A. Reed Lifetime Achievement Award from the Religion Newswriters Association.