UIndy grad set to launch food-delivery service
This introductory video above explains the Mealski concept.
Years of planning will come to fruition Feb. 13, when recent UIndy grad Dan Owenby launches Mealski, a new kind of food-delivery service.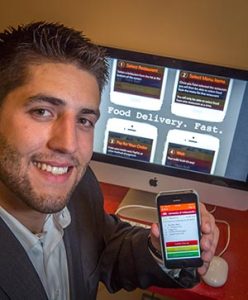 The app-based business will rely on an Uber-style fleet of independent drivers and establish online ordering systems for restaurants that otherwise might not have that capability. Customers will order from their mobile devices and a pay a few dollars extra for the convenience. Delivering for Mealski is designed to be a convenient part-time job with flexible hours. The entire process, including payment, is managed through the company's proprietary software.
The pending launch – initially serving the UIndy campus – will be celebrated this Saturday night with a party at the downtown nightspot Taps & Dolls, but the hard work continues as the Mealski team campaigns to recruit drivers and sign deals with restaurants.
"It's been a high-stress environment in the last couple weeks," admitted Owenby, who graduated cum laude in December with a major in Operations & Supply Chain Management and a minor in Entrepreneurship. "The light at the end of the tunnel is near."
The Mealski concept began in entrepreneurship courses taught by School of Business instructor Stanley Osweiler, who requires students to develop business plans and present them to banks or investors for possible financing.
"He pushed me to do these things," Owenby says of Osweiler. "Over a few semesters, it kind of blossomed."
In the past year, Owenby has attracted investment capital in the six figures and surrounded himself with senior business and legal advisers, a small staff of software developers and sales reps, and several UIndy students as interns. The group is divided between Indianapolis and the Detroit suburbs where Owenby grew up. After the initial launch in the UIndy area, Mealski plans to expand to other parts of Indianapolis and to Detroit, and hopefully beyond.
This being UIndy, of course, there's a service component to the business. Mealski has set up a partnership with an international charity organization, The Lunchbox Fund, in which every order placed through the system will provide a nutritious meal for a needy child in South Africa.
Learn more about the venture at www.mealski.com, and follow the progress on Twitter at @mealski.