Mulholland to chair national adolescent literature group
On Saturday, July 15, 2017, Dr Colleen Mulholland, interim dean of the School of Education, was elected Chair of the board of SIGNAL, the Special Interest Group: Network on Adolescent Literature at the 2017 International Literacy Conference in Orlando, Florida.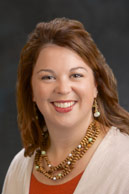 SIGNAL is one of 26 special interest groups within the International Literacy Association and publishes an academic journal twice a year.
Mulholland has been a member of the SIGNAL board since 2011.  Her scholarly work is in the area of using young adult literature
as a pedagogical approach to teaching middle and high school subject areas.
Her most recent publication in the field is Mulholland, C.S. (2016). "Pushing the edge of possibility: A new look at integrating technologies with young adult literature across content areas." In J. Hayn & J. Kaplan (Eds.), "Teaching young adult literature today: Insights, considerations, and perspectives for the classroom teacher." 2nd edition.