Women's soccer team signs young fan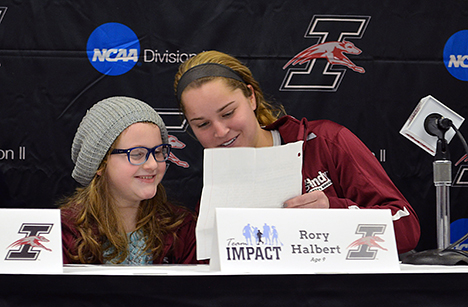 Rory Halbert, 9, shares a smile with Greyhound soccer player Jessica Bentley after signing her letter of intent Friday at UIndy. (photo by Laken Detweiler)
Nine-year-old Rory Halbert of Indianapolis is the newest member of the UIndy women's soccer team, following a signing ceremony Friday in Ruth Lilly Fitness Center.
Halbert was introduced to the Greyhounds through TeamIMPACT, a national organization that matches college sports teams with children who have life-threatening medical conditions, to provide friendship and support. Now known as No. 9 on the squad, she has her own locker and will join in team activities throughout the year.
Rory, who has autoimmune encephalitis, was accompanied at Friday's news conference by her parents, Jeff and Alicia Halbert; teammate Jessica Bentley, a junior midfielder and Communication major; and Vice President for Intercollegiate Athletics Sue Willey.
Previous TeamIMPACT signings at UIndy include 9-year-old Braden Tamosaitis of Camby with the men's soccer team and 7-year-old Owen Mahan of Pittsboro with the baseball team.
See a video and more photos on the Athletics site.