Female take on 'Odd Couple' opens Feb. 20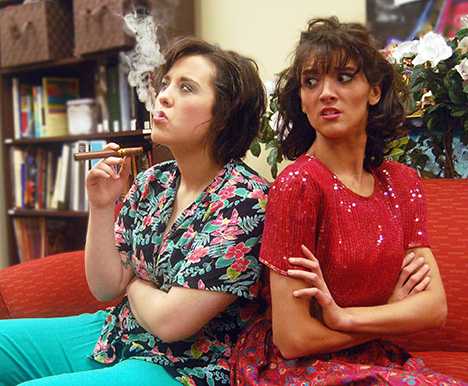 Justess Hurst, left, and Morgan Jackson lead the cast of The Odd Couple (Female Version), this year's dinner production from the Department of Theatre.
The University of Indianapolis will put a twist on a classic stage comedy when The Odd Couple (Female Version) opens Feb. 20 as the Department of Theatre's annual dinner production.
Adapted by writer Neil Simon himself from his original 1965 play, this version of the story, which opened on Broadway in 1985, features neat-freak Florence Unger (junior Morgan Jackson) moving in with sloppy, outspoken Olive Madison (junior Justess Hurst). The guys' poker group from the earlier version has become a weekly Trivial Pursuit match with female friends, portrayed by Kristine Storms, Lizz Krull, Paeton Chavis and Elizabeth Hollbrook. The upstairs neighbors are the Costazuela brothers, Manolo (Josh Kruze) and Jesus (Nate Coder).
Director James Leagre, an assistant professor in the department, said the production is a showcase for talented female students.
"We looked at the current demographics of our Theatre majors and realized we had a variety of strong actresses, and there are not many shows that have strong female characters in the main roles," he said. "Simon wrote this particular script in the '80s because so many companies were doing the original version, instituting a gender shift, and he was tired of it. So it's a fun time warp in which to take people back to the '80s, with big hair, pop music and 'interesting' clothes."
Performances are scheduled Feb. 20-22 and Feb. 26-28, with the dinner buffet opening at 6:45 p.m. and the performance beginning at 8 p.m. in the main dining room of UIndy's Schwitzer Student Center, 1400 E. Hanna Ave. Admission, which includes the meal, is $26 for the general public; $24 for alumni, seniors, groups of eight or more and non-UIndy students with ID; and $14 for UIndy students, faculty and staff.
ASL interpretation on Feb. 28
For bargain hunters, admission is free to a preview performance with no dinner at 8 p.m. Feb. 19, and admission for the performance only on Feb. 26 is just $6. The closing performance on Feb. 28 will feature two American Sign Language interpreters for hearing-impaired patrons.
Tickets and information are available through the Event Ticketing Center at Ransburg Auditorium or by calling (317) 788-3251 or visiting www.uindy.edu/arts/ETC.