Chemistry Dept. promotes student research
New lab course helps undergrads 'develop their professional selves'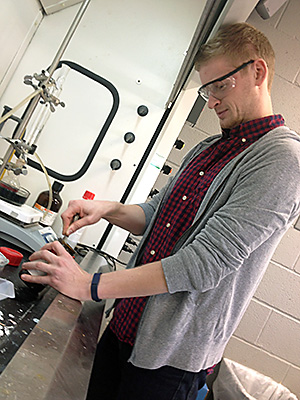 If you've never used a microwave plasma-atomic emission spectrometer before, Catey Costello can show you how.
"It's specifically designed for trace metal analysis," the junior Biology and Chemistry major says. "We've been compiling our own guide so other students will have an easier time using the instrument themselves."
Costello and lab partner Erin Mirgon, a senior bio and chem major, are part of a new undergraduate research initiative spearheaded by Assistant Professor Brad Neal of the Department of Chemistry. With university funding and a donation or two, Neal and his colleagues have obtained some sophisticated equipment, including the aforementioned MP-AES, as well as a photospectrometer to measure the concentration of compounds in a sample, and both gas and liquid chromatographs, which can separate and quantify the components of a mixture. The possibilities are bringing classroom lessons to life for a motivated and self-directed group of students.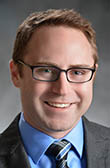 "They're teaching themselves," Neal says. "We told them: Learn how the instrument works, learn how to acquire the data, learn how to interpret the data, and tell us an interesting story about what you've learned."
A number of students submitted resumes and cover letters last spring when Neal posted a callout for CHEM 450, a class that enables students to conduct independent research projects under faculty guidance. About a dozen students working with Neal and Assistant Professor David Styers-Barnett meet each Friday afternoon to report on their progress and share tips. Chemistry Department Chair Katherine Stickney and Assistant Professor Levi Mielke also have been supervising undergraduate research projects.
So far, Costello and Mirgon have used the MP-AES to test for dangerous heavy metals in Indiana cave water. Their next venture will involve growing plants in a greenhouse while contaminating the soil, perhaps with gasoline.
"This semester we're going to test the heavy metal uptake from contaminated soil into plants," Costello says. "We're going to see how much of that actually affects the plant itself."
Junior Reed McKinney, on the other hand, is conducting chemical reactions to manipulate nitrogen and carbon atoms into novel molecular structures, in hopes of identifying compounds with potential applications for the electronics industry. It's a painstaking pursuit that requires considerable patience and strict hygiene with the materials, but he enjoys his time in the lab.
"Think of your cell phone – a lot of the circuitry in there is molecular-sized," says McKinney, a pre-dentistry bio-chem major from Brownstown. "There are so many ways you can arrange molecules. We're talking really small molecules, 10 or 12 atoms."
It remains to be seen whether the undergraduate research in Lilly Science Hall will produce any landmark discoveries, but the process – including the all-important step of presenting one's self and one's work to others — will be invaluable to the students as they apply for graduate school or launch professional careers, Neal says. In essence, they are learning how to brand themselves as scientists, with specific research interests and hands-on proficiency.
"We're giving students that richer experience," Neal says. "I'm seeing a lot of scientific inquiry that you just don't see in the classroom. I'm also trying to help them develop their professional selves."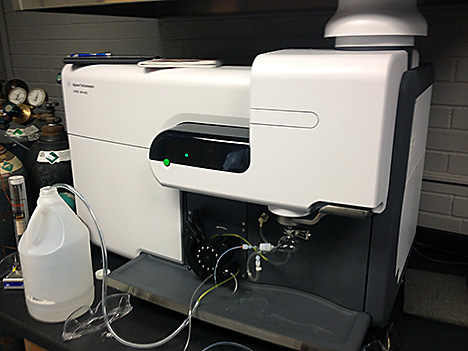 The Agilent 4100 Microwave Plasma-Atomic Emission Spectrometer is among the sophisticated new tools available to students conducting chemistry research.