Basketball teams gear up for key road trip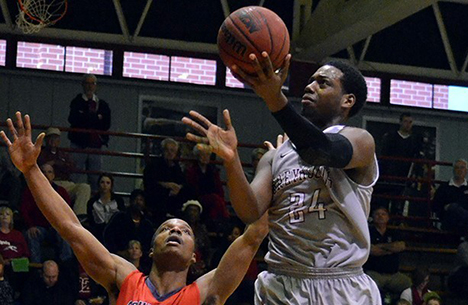 Greyhound junior guard Jordan Loyd led scoring with 22 points in Saturday's 83-64 win over Missouri's Truman State University. (Photo by Laken Detweiler)
Hound Pound fan bus planned for Saturday games at Bellarmine
With only three games left in the regular season, the UIndy men's and women's basketball teams will hit the road this week to face rivals University of Southern Indiana on Thursday and Bellarmine on Saturday.
The men's team (21-2, 13-2 GLVC) climbed back up to No. 6 this week in the D-II NABC Coaches Poll. Since suffering their first losses of the season Jan. 29 at Wisconsin-Parkside and Jan. 31 at Lewis, the Hounds have won four straight, each by a wide margin.
The women's team (10-13, 7-8 GLVC) trounced Quincy 95-79 last Thursday but fell 52-63 Saturday at Truman State.
Fans can hop on a Hound Pound bus to Louisville at 3 p.m. Saturday to see the Bellarmine games. Seats can be reserved here, and a refundable $10 deposit must be submitted by 4:30 p.m. Thursday at the Student Affairs office in Schwitzer 209. Game tickets and food will be provided.
The regular season wraps up Feb. 26 as the Greyhounds host Saint Joseph's in Nicoson Hall.
More info is available at athletics.uindy.edu.