Hoops Hounds prepare for final home games
Thursday is Pack-the-House Night and Senior Night at Nicoson Hall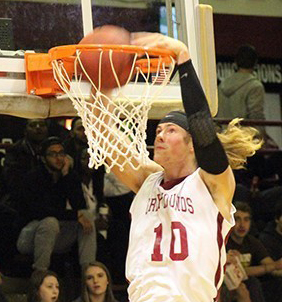 A noon pep rally on Thursday will kick off the festivities as the UIndy basketball teams face visiting Saint Joseph's College for their final regular-season games.
It's Pack-the House Night, so fans can enjoy the games and dinner for just $5, and it's Senior Night, with senior players, managers, cheerleaders and student athletic trainers being honored before each game.
Just today, Indianapolis Star sports columnist Gregg Doyel finally caught up with the men's team, which spent two weeks ranked No. 1 in Division II and still boasts a 21-4 record. Doyel's piece focuses on senior forward Brennan McElroy, who is growing his hair long for a Locks of Love-type organization in honor of an aunt he lost to cancer. Read the story here.
Alumni can register for Pack-the-House Night here.
Thursday's schedule of events is:
Noon: Pep Rally in Schwitzer Atrium
Featuring UIndy Radio, emcee Colin Bowles, UIndy basketball coaches Stan Gouard and Constantin Popa and President Robert Manuel. The Professional Edge Center will announce the two lucky students who will attempt half-court shots at halftime of the men's game, with a chance to win free tuition for a semester.
5:30 p.m.: Dinner and family fun in Ruth Lilly Fitness Center
Featuring a taco bar, a pasta bar, a soup and salad station, prizes and activities for kids.
5:30 p.m.: UIndy women vs. Saint Joseph's College
At halftime, the men's soccer team will receive rings to commemorate their GLVC championship.
7:45 p.m.: UIndy men vs. Saint Joseph's College
Halftime festivities will include recognition of Faculty Achievement Awards and those half-court shots for free tuition, courtesy of the Professional Edge Center.