Major library transformation to begin in May
The redesigned Krannert Memorial Library will feature a three-story glass curtain wall on the east, providing natural light and dramatic campus views across Smith Mall. (Rendering by RATIO Architects)
New design, with café, will suit range of learning styles, technology needs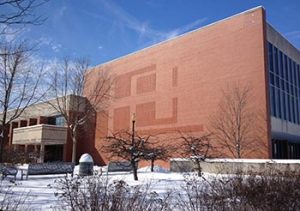 The University of Indianapolis will fundamentally overhaul its Krannert Memorial Library this summer to create a more versatile study and work facility for students and faculty, and a more inviting destination for the campus and surrounding neighborhood.
Based on extensive input from the UIndy community, as well as the latest research on the learning styles of today's students, the building's interior will be reconfigured for maximum flexibility, with enhanced digital connectivity and a range of room options to accommodate everything from private study to lively group discussion.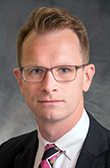 "Students really need a place where they can create their own learning environment," library Director Matthew Shaw said. "We want to offer active learning spaces where faculty and students can collaborate, and students can do everything from discovery to final presentation."
The library also hopes to expand its services for neighboring residents and visitors, who already are able to use designated computer workstations and apply for borrowing cards.
Construction will begin in May, and the interior will be open for use when the fall semester begins in August, though some exterior work may continue. A dedication ceremony is scheduled for Oct. 3 during Homecoming festivities. The project is designed by RATIO Architects and managed by F.A. Wilhelm Construction Co., local firms selected from a number of design-build teams that submitted proposals.
New features will include a ground floor café with food service, an outdoor plaza, a 24-hour study lab, and a glass-curtain exterior wall on the east side to provide all three upper stories of the building with natural light and views across UIndy's central Smith Mall. New windows on the north side will bring natural light to the building's lower level for the first time.
The $5.5 million library renovation is part of UIndy's ongoing $50 million investment in the campus and surrounding neighborhood, which also includes the four-story Health Pavilion opening in August, new townhomes to replace aging student apartments, upgraded science labs and other improvements to facilities and programs.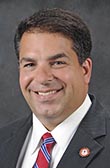 "The input we've gathered in our strategic planning process tells us that the library, which has served us well for decades, could be playing a more vital role in campus life and in the life of this neighborhood that is anchored by the university," UIndy President Robert Manuel said. "The new Krannert Memorial Library will support the community interaction and faculty-student relationships that are so central to the UIndy experience, helping our students meet the rising demands of academia while also creating new opportunities for public events and programming."
The first and second floors will cater to social interaction and group work. An upgraded main entrance on the east side will lead to a service desk reconfigured to make the library staff more accessible to patrons seeking help with materials and software. The Writing Lab, which currently provides writing support to students on the second floor, will move to a more convenient location on the first floor. New to the second floor will be a large instructional space where the staff can show groups of students how to make full use of library resources.
"Probably the greatest resource we have is the information professionals who work here," Shaw said.
The lower level and third floor will be quiet spaces for reading and research, with stacks, archives, rare books and other materials for users who prefer a more traditional experience. The library, which holds more than 130,000 print volumes, will continue to develop high-impact print and electronic collections to support the university curriculum. Patrons can easily borrow additional materials from other libraries through interlibrary loan, a free service available to all students and faculty.
"We're creating a facility that's attractive to any user on the spectrum, from our undergraduates to our adult students," Shaw said.
Opened in 1977, Krannert Memorial Library is named for the late industrialist and philanthropist Herman C. Krannert, whose Krannert Charitable Trust provided crucial support for its construction.
"It was built at a time when learning was largely an individual process," Shaw said. "Today's students are definitely multitaskers, and they learn in much more social and integrated ways."