Writers series to feature Vietnamese poet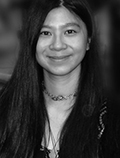 Acclaimed poet Teresa Mei Chuc, who came to the United States from her native Vietnam as a child refugee in the 1970s, will read and discuss her work Monday, March 16, at UIndy.
Her appearance, part of UIndy's Kellogg Writers Series, will take place at 7:30 p.m. March 16 in Room 010 of Schwitzer Student Center. Admission is free, and L/P credit is available for students.
Now a public school teacher in Los Angeles, Mei Chuc has published two full-length collections of poetry, Red Thread: Poems (Fithian Press, 2012) and Keeper of the Winds (FootHills Publishing, 2014). Her work also has appeared in leading journals including The National Poetry Review and in anthologies such as New Poets of the American West (Many Voices Press, 2010), With Our Eyes Open: Poems of the New American Century (West End Press, 2014) and Mo' Joe (Beatlick Press, 2014).
Her poetry often is informed by experiences she and her family shared in the wake of the Vietnam War. Born in Saigon in 1976, she and her mother and brother escaped in a freight boat to seek political asylum while her father, who supported the U.S.-backed regime in the war, spent nine years in a Vietcong "re-education" camp. Her 2013 book Year of the Hare (Shabda Press) is a short story in vignettes about her father's struggle with PTSD and its effects on the family after he joined them in the United States.
UIndy's Allen & Helen Kellogg Writers Series, coordinated by the Department of English, brings writers of distinction to campus for free public readings and discussions. The series will continue on April 1 with poet and former UIndy faculty member Alice Friman. For more information, contact series director Dr. Elizabeth Weber at (317) 788-3373 or eweber@uindy.edu.