Anti-Nazi theologian is March 30 lecture topic
Annual Showers Lectures feature biographer of Dietrich Bonhoeffer 
The late German theologian and anti-Nazi dissident Dietrich Bonhoeffer will be the topic of the 2015 Showers Lectures on March 30 at UIndy.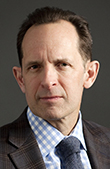 This year's speaker is Charles Marsh, Commonwealth Professor of Religious Studies and director of the Project on Lived Theology at the University of Virginia. He is the author of 2014's Strange Glory: a Life of Dietrich Bonhoeffer, which won the Christianity Today Book Award for History/Biography.
Bonhoeffer was a German Lutheran pastor and theologian known for his writings about Christianity's role in the secular world and for his opposition to the Nazi regime, which led to his arrest and eventual execution in 1945. His best known work is the influential book The Cost of Discipleship, published in German in 1937 and in English in 1948.
Marsh will speak on "The Life & Legacy of Dietrich Bonhoeffer" in two lectures, scheduled for 4 and 7 p.m. March 30 in UIndy's McCleary Chapel, located on the second floor of Schwitzer Student Center, 1400 E. Hanna Ave. Admission is free, and L/P credit is available to students.
The Showers Lectures in the Christian Religion are made possible through the generosity of the late J. Balmer Showers, a bishop of the Evangelical United Brethren Church and former University of Indianapolis trustee. Showers established the annual lecture series with an endowment gift to the university shortly before his death in 1962.
For more information, contact the Office of Ecumenical & Interfaith Programs at (317) 788-2106.