Greyhounds to face archrivals in regional final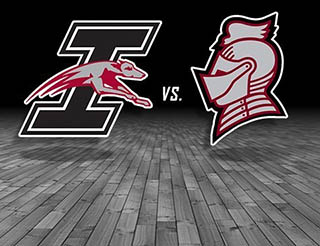 UPDATE: Historic season comes to a close
It's March, and the UIndy men's basketball team has a chance to reach the Division II Elite Eight, but the only route is through those annoying Bellarmine Knights.
The 25-5 Greyhounds' first-ever regional final appearance begins at 7 p.m. tonight in Louisville, against a 29-3 Bellarmine squad that has won two of their past three encounters.
The game is a sellout, and so is the UIndy fan bus that leaves at 4 p.m. today. Fans who didn't score seats on the bus might enjoy the viewing party at Buffalo Wild Wings, 8020 U.S. 31 South. A private dining section will be reserved for UIndy fans, with the game showing on multiple screens. The Greyhound Club will provide free soft drinks and appetizers.
Of course, the game will be carried on WICR-88.7 FM/HD, as well as online. Learn more about the coverage and tonight's matchup at the Athletics website.