Twyla Tharp: Hard work is key to creativity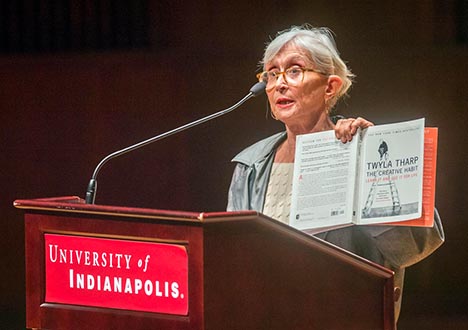 Indiana native Twyla Tharp, who spoke Wednesday in Ruth Lilly Performance Hall, has choreographed more than 160 works, including Hollywood films, TV specials, Broadway shows, full-length ballets and figure-skating routines.
Famed choreographer Twyla Tharp delivered her message loud and clear Wednesday in a visit to UIndy: Creativity is not a magical gift for the chosen few; it's available to anyone, but only as a byproduct of preparation and discipline.
"Each and every one of us is a creative person," the Hoosier-born artist told the crowd in Ruth Lilly Performance Hall. "Accidents only happen to people who are working."
Thus the seemingly contradictory concept of "The Creative Habit," which was the title of Tharp's bestselling 2003 how-to book and also that of her talk, presented by UIndy's Sutphin Lectures in the Humanities series.
Success in any creative field requires not just a bold, groundbreaking vision, she noted, but also a strong knowledge and appreciation of our predecessors' achievements.
"Rip them off. Use them. Don't naysay the past," said Tharp, who earlier in the day spent nearly an hour in a private discussion and Q&A session with select students. "Before you can think out of the box, you have to start with a box."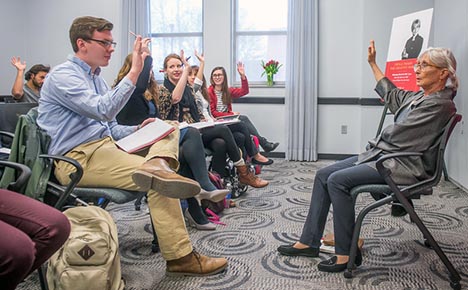 Tharp takes questions from students during a private, informal discussion session Wednesday afternoon in Schwitzer Student Center.