Prof's book fresh take on sports marketing
Professor Larry DeGaris doesn't just teach sports marketing – now he can say that he literally wrote the book.
Hot off the presses and aimed at college students and practitioners, Sports Marketing: A Practical Approach is billed by publisher Routledge as "the first textbook to offer a comprehensive, engaging and practice-focused bridge between academic theory and real-life, industry-based research and practice in sports marketing."
In fact, a professor from another institution liked the approach so much that she arranged to begin using it this semester, even before it was officially published in February. And at least one other college program already plans to adopt it.
Dr. DeGaris, director of the Sports Marketing program in UIndy's School of Business, says he wanted to improve on existing books in the field, which tend to use sports-related anecdotes to dress up otherwise-generic surveys of basic marketing principles.
"My students were my main motivation for writing the book," he says. "I wasn't satisfied with the other textbooks and thought they deserved better."
Thus, DeGaris tried to tackle the subject fresh, from the ground up, drawing on his own experiences as a nationally known research consultant to the sponsorship and sports marketing industries. He has personally conducted more than 100 research studies for sponsors and sports organizations including Home Depot, Bank of America, Pepsi, the NFL, the NHL and the LPGA. He also is a sought-after source for journalists worldwide on the intersection of business and sport.
Beginning with the premise that generating revenue is the primary role of the sports marketer, Sports Marketing: A Practical Approach focuses on the key areas of ticket sales, media and sponsorship, exploring such topics as fan development, brand management, media rights and revenue, live events, sponsorship, retail merchandising and business-to-business opportunities. The book incorporates research findings into every chapter, as well as guidance for building a career in sports marketing.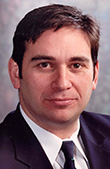 "The book is very career-focused," says DeGaris, who holds a Ph.D. in Sport, Leisure and Exercise Science from the University of Connecticut. "I included a lot of actual job descriptions from the industry to show how what you learn in the book gets used in the industry."
Hulda Black, an assistant professor of marketing at Illinois State University, learned of the book online before it was published and contacted DeGaris, who agreed to provide proofs of the initial chapters so her students could begin using it in January.
"I was searching for a book that went beyond the basics, and immersed students in the ins and outs of sport marketing, as well as what it meant to actually have a career in the industry," Black said. "From its focus on ticket sales to the integrated marketing communication aspects involved in sponsorship, this book leaves the students with a sound understanding of the industry, as well as great insight on working in sport marketing."
Sports Marketing: A Practical Approach is available through Amazon, Routledge and other sources.