Theatre: Classic tale gets a classic rock twist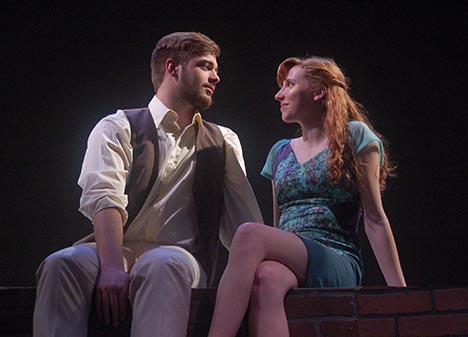 Freshman Luke Garrigus and senior Elise Campagna are the tragic lovers of Eurydice, opening next week in Ransburg Auditorium.
Ancient Greek myth gets a mind-bending update in UIndy's production of Eurydice, which begins its run with a free sneak preview next Thursday.
The 2003 play by Sarah Ruhl retells the legend of the musician-prophet Orpheus and his journey through the underworld by focusing on his doomed wife, Eurydice. The New York Times called it "weird and wonderful … an inexpressibly moving theatrical fable about love, loss and the pleasures and pains of memory."
Our Department of Theatre is taking the adaptation even further by incorporating, through recordings and live performance, classic rock hits suited to the themes and setting.
"It's a bit radical," says Director of Theatre Brad Wright, promising a spectacle of projections, lighting and sound effects, electric guitar and an elaborate set that includes a working elevator.
Elise Campagna plays the lead role of Eurydice, torn between her living husband (Luke Garrigus) and her dead father (Kyle Mishler) and menaced by "A Nasty Interesting Man/Lord of the Underworld" (Josh Kruze). Wright provides direction and sound design.
Performances are scheduled for 8 p.m. April 17-19 and 23-25 in Ransburg Auditorium. Admission is free for students, faculty and staff with UIndy ID, $12 for the general public and $10 for alumni, seniors, groups of eight or more and non-UIndy students with ID. A free preview is at 8 p.m. April 16, and admission to the April 23 performance is just $6 through the Half-Price Second Thursday program. ASL interpretation will be offered for the April 23 performance.
Tickets and information are available through the Event Ticketing Center at Ransburg or by calling (317) 788-3251 or visiting www.uindy.edu/etc.