Prof: HIV outbreak shows risk in rural areas
An HIV outbreak in southern Indiana points out the need for a comprehensive approach to public health, a UIndy faculty member says in a letter published Sunday in the Indianapolis Star.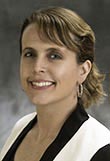 Dr. Shannon McMorrow is interim director of the College of Health Sciences' Master of Public Health degree program, which focuses on health disparities — the preventable differences in health among certain populations that can occur along lines of age, sex, ethnicity, geography, socioeconomic status and other factors. Rural areas of the state face disparities that leave residents vulnerable to crises like the current one in Scott County, she says, where intravenous drug use is now blamed for at least 130 cases of HIV infection.
"Scott County has been designated by the U.S. Health Resources and Services Administration as having shortages of primary, dental and mental health care providers," McMorrow writes. "These disparities are all interrelated, with lower education levels leading to lower socioeconomic levels leading to higher risk of mental health conditions and drug abuse. Further, the sociocultural environment and lack of education and economic opportunity exacerbate the health care shortage."
Read the full piece here.