$5M gift will transform liberal arts at UIndy
At Commencement, President Robert Manuel (left) applauds as UIndy Board of Trustees Chairman Tom Martin and College of Arts & Sciences Dean Jennifer Drake (far right) honor donor and Trustee Yvonne Shaheen.
Indianapolis Star
Indianapolis Business Journal
WISH-TV
College of Arts & Sciences to be named for philanthropist, late husband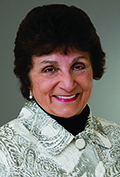 A $5 million endowment from local civic leader and philanthropist Yvonne Shaheen will fuel innovation in the College of Arts & Sciences at the University of Indianapolis, creating a pivotal opportunity to cultivate the liberal arts as the foundation for students' professional and personal development.
Shaheen is vice chair of the university's Board of Trustees, which she joined in 1992. In recognition of her generosity as well as her ongoing leadership and advocacy, the college is being named the Riad and Yvonne Shaheen College of Arts & Sciences, honoring both her and her late husband.
UIndy President Robert Manuel announced the extraordinary gift today during the annual Commencement ceremony in Key Stadium, drawing applause from the crowd of thousands.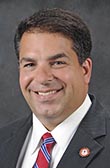 "Yvonne Shaheen is a true pillar of this city and state, providing her personal energy, financial support and wise counsel to many efforts that enrich our community, and the university is grateful to be included among her priorities," Manuel said. "Thanks to Yvonne, at a time when some question the value of liberal arts education, we can make an unparalleled investment in people and programs that prepare graduates not merely for a job, but for continuing growth and fulfillment in their lives as working professionals and engaged citizens."
The Shaheen College of Arts & Sciences offers scores of bachelor's and master's degree programs in disciplines including Anthropology, Art & Design, Biology, Chemistry, Communication, English, History & Political Science, Math & Computer Science, Modern Languages, Multidisciplinary Programs, Music, Philosophy & Religion, Physics & Earth-Space Science, Sociology & Criminal Justice, Social Work and Theatre. Nearly half of UIndy undergraduates choose majors in those departments, which also provide important core courses and enriching electives to students majoring in professional fields such as Health Sciences, Education and Business.
The new funding will support a broad range of programs and activities including scholarships, faculty development, interdisciplinary initiatives and opportunities for faculty and students to collaborate on research. It also will bring important national and international figures to campus for lectures, performances and other events consistent with the mission and values of the college and the university.
Jennifer Drake, dean of the Shaheen College of Arts & Sciences, noted that education in the fine and performing arts, the humanities, the sciences and the social sciences nurtures the creativity, critical thinking, communication skills and broad worldview that employers seek and that are vital to success in any endeavor.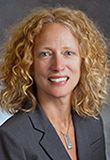 "We are eager to explore the possibilities that this gift represents, in terms of sparking continued innovation in teaching, embedding transformative experiences throughout our curriculum and promoting research, travel and community engagement as key elements of undergraduate education," Drake said. "By reinforcing our commitment to the vitality of the liberal arts and sciences, this funding will benefit all UIndy students, and ultimately the communities where they live and work, well into the future."
Shaheen, a teacher by training, served 18 years as CEO and president of Long Electric Co., assuming the post upon her husband's death and turning the family business into one of the state's largest electrical contractors. Since retiring, she has distinguished herself as a community volunteer dedicated to advancing the arts, culture, education and other vital causes in central Indiana. Among other leadership roles, she is chair of the WFYI Public Media Board of Directors, vice chair of the Indianapolis Symphony Orchestra board and a member and former chair of the Arts Council of Indianapolis board. UIndy recognized her with an honorary Doctor of Humanities degree in 1996 and its Honorary Alumni award in 2013.
"I've seen the importance of strategic philanthropy in advancing the culture and enhancing the quality of life in this community," Shaheen said. "The University of Indianapolis plays an integral part in that process, and I am happy to support its efforts to prepare future generations of leaders for the important roles they will play in our society."