Students launch group to save food, feed needy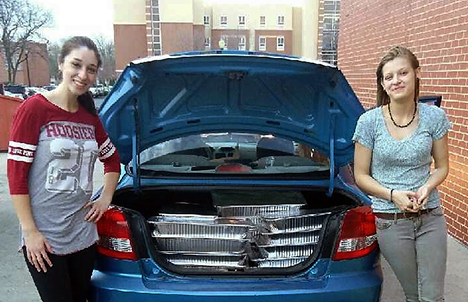 They deliver: Sophomores Brittany Finigan, left, and Moira McKinney are president and vice president of the new Food Recovery Network chapter on campus.
This spring at UIndy, several hundred pounds of leftover dining room food went to hungry men, women and children throughout Indianapolis, thanks to the leadership of one student – a freshman, no less.
Now a sophomore, Psychology/Pre-OT major Brittany Finigan has founded a UIndy chapter of the national Food Recovery Network, one of only three such chapters in the state.
Each Thursday night beginning March 26, she and a few friends gathered in the Schwitzer kitchens to package, weigh and label big trays of food that otherwise was headed for the garbage. Tracking the figures on their spreadsheets, they prepared the bounty for pickup or delivery to Wheeler Mission, the Salvation Army Women and Children's Center and other organizations that help the needy or homeless.
The demand is great, says Finigan, who hails from Lowell, Ind.
"We have 13 shelters in Indianapolis alone," she says.
Community service is not new to Finigan, who enjoys working with disabled adults and plans to make it a career after earning a Doctor of Occupational Therapy degree. She came to UIndy on a service-related scholarship, and she was further inspired by undertaking the Student Affairs division's new Leadership Certificate Program, which aims to build skills and confidence and increase campus engagement among rising student leaders.
The specific idea of food recovery occurred to her during a casual dining room conversation.
"I was just wondering what they did with all the food," she recalls.
After a bit of research, she discovered Food Recovery Network, which supports college students nationwide in battling food waste and hunger in their communities. She obtained a $500 grant from the group to cover the cost of aluminum food trays, gas and other expenses, and she worked with UIndy Dining Services on the logistics. In the group's first four Thursdays of operation, they salvaged more than 500 pounds of food.
Finigan is now focused on fundraising and building a student team to continue the work next year, and also to organize speakers and events on campus to raise awareness of the related issues. Among the more modest goals is expanding the food collection to two nights a week. Fellow sophomore Moira McKinney has signed on as vice president, and other chapter members include Kieri Everett, Amy Fraikin and Erin Chaniga.
"I love community service," says Finigan, who obviously picked the right university. "It's become a passion of mine. It's a great feeling, after you're done, to know that you've helped someone."