Work to begin on new student apartments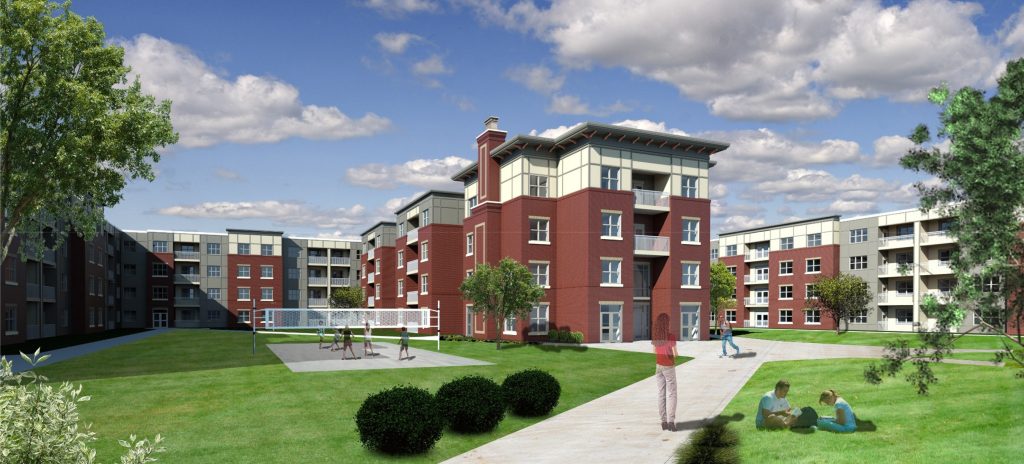 The new student apartment building at Shelby Street and National Avenue will create courtyards and recreational areas for residents and their guests.
Indianapolis Business Journal
WISH-TV
Joint venture with developer will enhance neighborhood and streetscape
while providing a range of residential options for nearly 500 occupants
The University of Indianapolis will break ground this month on a four-story apartment building that will create new housing options for up to 480 students while beautifying and promoting new development along the city's increasingly vital Shelby Street corridor.
The joint venture between the university and local developer Strategic Capital Partners will feature 196 furnished units with kitchens, living areas, washers and dryers, in a variety of floor plans from one to four bedrooms, each bedroom with a private bath.
The new structure will replace a 60-unit campus apartment complex at Shelby Street and National Avenue that dates to the 1950s, as well as an adjacent row of aging duplexes, all of which now house 175 students. Construction, overseen by general contractor CRG Residential, should be complete by July 2016, in time for students to move in for the fall semester. The total project cost is estimated at approximately $25 million.
Designed by architects Schmidt Associates, the E-shaped structure will have three wings pointing east into campus, creating a courtyard and recreation area for residents. Some units will have balconies, and the building's common areas will include an outdoor observation deck overlooking a pond. The brick exterior will match the existing campus aesthetic while conveying a modern urban feel.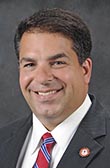 UIndy President Robert Manuel noted that the project has significance beyond the university community in part because of its location on Shelby Street, which connects the campus to the nearby Garfield Park and Fountain Square neighborhoods and is the preferred route for a proposed rapid transit line through Marion County.
"This is a beautiful building that not only will enhance the neighborhood's visual appeal, but also will help build residential density and attract new commercial development to serve the UIndy community as well as our neighbors and commuters," Manuel said. "Our relationship with Strategic Capital Partners helps us to manage costs while providing students with the amenities and the quality they deserve."
The joint venture continues a collaboration with Strategic Capital Partners that also includes the four-story Health Pavilion on Hanna Avenue. That building will open in August as the new home for the university's academic programs in nursing, physical therapy, occupational therapy, psychology, gerontology, kinesiology, athletic training and social work, as well as clinical facilities where students and faculty will collaborate with health care industry partners on patient care, education and research. Both projects are part of an ongoing campus and neighborhood development plan that also includes a major library renovation, expanded science labs, athletic facilities and new personnel and programs.
"We are thrilled to continue our partnership with the University of Indianapolis and help execute the vision of President Rob Manuel and the Board of Trustees," said Gene Zink, chairman and CEO of Strategic Capital Partners. "Their commitment to opening up the campus to the surrounding neighborhoods is taking shape and will have a lasting impact on the south side of Indianapolis."
A groundbreaking ceremony for the apartment project is scheduled for May 28.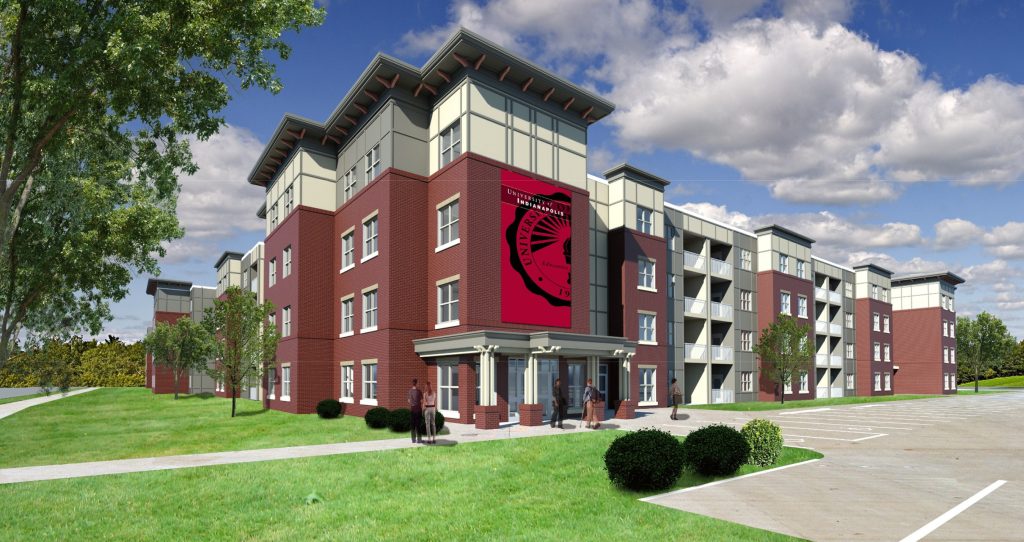 The apartment project will enhance visual appeal and help stoke new development along Shelby Street, an increasingly important travel corridor through the city.