Greyhounds rule GLVC — fair and square
For the fourth consecutive year and the seventh time overall, the University of Indianapolis has claimed the Great Lakes Valley Conference All-Sports Trophy, presented to the member institution that demonstrates the best all-around performance in the league's 20 sponsored sports.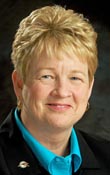 The award is the conference's first "four-peat" since 1990. UIndy won five league titles over the course of the 2014-2015 year, including football, men's soccer, women's tennis, women's golf and women's outdoor track and field. The Greyhounds also placed second in softball, men's tennis and women's indoor track and field, as well as third in points for men's golf, baseball, men's indoor track and field and men's and women's swimming and diving. Read more about the award here.
Coincidentally, Vice President for Intercollegiate Athletics Sue Willey was sought out by journalists Tuesday to discuss the New England Patriots' "Deflategate" scandal and the significance of cheating in athletic competition. Dr. Willey, a 19-time letterwinner during her UIndy student days, has taught courses in sports ethics and has received professional honors including the 2012-13 Under Armour Division II Athletic Director of the Year, 2010 Under Armour Division II Central Region Athletic Director of the Year and 2005 NACWAA Division II Administrator of the Year.
"Society wants to win at all costs and will make excuses for people to be successful," Willey told WRTV-6. "The thing is, you can be successful and do it within the rules, but it's harder."
Watch the interview segments here, here and here.