UIndy IT's Kathy Ellis, Bobby Wilson take new roles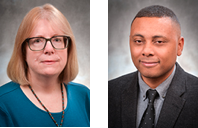 Kathy Ellis, a UIndy employee since 2007, is known by many as the go-to person for My UIndy and the Ellucian GO mobile app. Kathy will be leaving that position and those responsibilities in December to transition to a part-time Deployment & Solutions Technician.
Bobby Wilson, a UIndy IT Application Developer since 2016, has accepted those My UIndy and Ellucian GO app responsibilities in a new Online Applications Manager position. Bobby has already begun training with Kathy to increase his My UIndy system and content administration skills in this new role.
If you have questions or need to make updates to My UIndy, please update your contacts to Bobby Wilson at bowilson@uindy.edu or (317) 788-3525.