Q&A: UIndy grad prepares for literary spotlight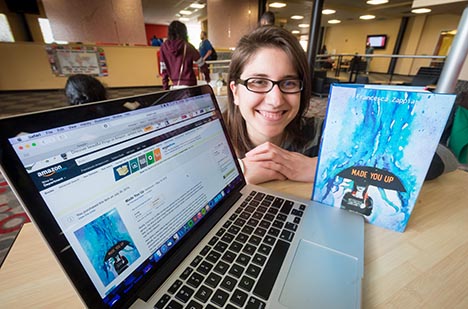 Wanamaker resident Francesca Zappia, who earned her UIndy bachelor's degree earlier this month, will read and sign copies of her debut novel, Made You Up, on Tuesday evening at Barnes & Noble in Greenwood.
"Could young Indy author be the next John Green?" reads the headline on an Indianapolis Star interview with Francesca Zappia, a fresh UIndy grad who on Tuesday will see the nationwide release of her first novel, Made You Up.
The book, a quirky and touching mystery in which a teen heroine battles mental illness as she probes strange happenings at her high school, has been touted among the most anticipated young adult novels of 2015 by critics for Teen Vogue, The Huffington Post, Barnes & Noble and Pop Crush.
The attention "is both extremely humbling and kind of terrifying," Zappia tells the newspaper. "I'm so grateful for these articles. Sure, there's pressure in it, but I'd rather someone read the book with high expectations than never read the book at all." Read the full interview here.
Made You Up is the first in a two-book deal Zappia signed with Greenwillow Books, an imprint of HarperCollins Publishers. The 22-year-old author, who grew up in Wanamaker and graduated from Franklin Central High School before earning her Computer Science degree at UIndy earlier this month, will celebrate the publication date with a reading and book signing at 7 p.m. Tuesday at the Greenwood Park Mall location of Barnes & Noble.
Zappia also was featured last week in the Daily Journal of Johnson County. For subscribers, that story is here.