Softball team starts World Series action today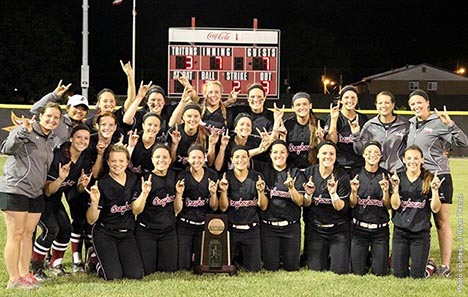 The Greyhound softball team celebrates Saturday after sweeping a doubleheader to win the D-II Midwest Super Regional and a trip to the national championships.
The action begins this afternoon in Oklahoma City as the UIndy softball team enters the Division II Women's College World Series for the first time since 2009.
The 10th-ranked Hounds (47-13) will face the sixth-ranked North Georgia Nighthawks (49-7) at 3:30 p.m. The UIndy Greyhound Club will host a viewing party with free soft drinks and appetizers at Buffalo Wild Wings, 8020 U.S. 31 South. Click here for more details on the game and links to live video, audio and stats.
"You have to have a little luck," head coach Melissa Frost told the Indianapolis Star for a game preview. "You have to play well at the right time. That's the most important thing. But we tell every girl we bring in here that our goal is to win a national championship."
In related news, junior Morgan Foley and seniors Taylor Russell and Casey Williamson were named to the National Fastpitch Coaches Association All-America team Wednesday night at the NFCA's annual awards banquet in Oklahoma City. Read more about that honor here.